The Element: How Finding Your Passion Changes Everything (Paperback)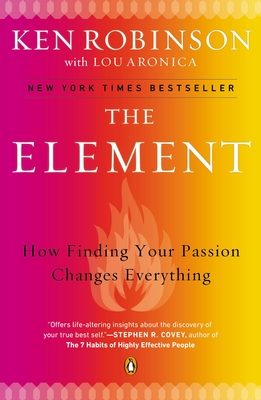 $16.00
Usually Ships in 1-5 Days
December 2008 Indie Next List
---
"Ken Robinson's book about creative purpose and education is brilliant and funny and oh-so-deftly right-on about the state of education and how we can rediscover the intersection between passion and ability."
— Drea Firth, Maria's Bookshop, Durango, CO
Description
---
A"New York Times-"bestsellingbreakthrough book about talent, passion, and achievement from the one of the world's leading thinkers on creativity and self-fulfillment.
The Element is the point at which natural talent meets personal passion. When people arrive at the Element, they feel most themselves and most inspired and achieve at their highest levels. With a wry sense of humor, Ken Robinson looks at the conditions that enable us to find ourselves in the Element and those that stifle that possibility. Drawing on the stories of a wide range of people, including Paul McCartney, Matt Groening, Richard Branson, Arianna Huffington, and Bart Conner, he shows that age and occupation are no barrier and that this is the essential strategy for transforming education, business, and communities in the twenty-first century.
Also available from Ken Robinson is"Finding Your Element," the practical guide to achieving your highest potential.
About the Author
---
Ken Robinson is a psychoanalyst in private practice in Newcastle upon Tyne and the Honorary Archivist for the British Psychoanalytical Society. He is a training analyst for trainings in child, adolescent and adult psychotherapy in the North of England and in Scotland. He lectures and teaches in the UK and Europe, and is especially interested in the developmental point of view, the nature of therapeutic action, and the history of psychoanalysis. His most recent publication is a brief history of the British Psychoanalytical Society.

Lou Aronica is the author of several works of fiction and nonfiction, and he has collaborated on a number of books, including the national bestseller The Culture Code.
Praise For…
---
"The Element offers life-altering insights about the discovery of your true best self." —Stephen R. Covey, author of The 7 Habits of Highly Effective People
 
"Ken Robinson presents the theme of creativity and innovation in a way that makes you want to go out and make your dreams a reality. In his wonderfully easy-to-read and entertaining style he presents the stories of many who have done just that. . . . It is a book that lightens and lifts the minds and hearts of all who read it." —Susan Jeffers, Ph.D., bestselling author of Feel the Fear and Do It Anyway® and Life is Huge!
"A great and inspiring book. It's been said that an unexamined life is not worth living. True enough and Ken Robinson doesn't let us off the hook. After the first page, you have to abandon your ego and look for your own gifts and graces." —Warren Bennis, author of On Becoming a Leader: The Leadership Classic
"Robinson (Out of Our Minds), renowned in the areas of creativity development, innovation, and human resources, tackles the challenge of determining and pursuing work that is aligned with individual talents and passions to achieve well-being and success. . . . Motivating and persuasive, this entertaining and inspiring book will appeal to a wide audience." —Publishers Weekly
 
"Ken Robinson is a remarkable man, one of the few who really look at and into you, so he makes you feel at ease and happy. I'm proud to be in his book as one of the people he feels attained the Element. Reading his book helps you pinpoint the search we must all make to achieve the best in us." —Gillian Lynne, choreographer, Cats and The Phantom of the Opera
 
"While the world is changing faster than ever, our organizations, our schools, and too often our minds are locked in the habits of the past. The result is a massive waste of human talent. The Element is a passionate and persuasive appeal to think differently about ourselves and how to face the future." —Alvin Toffler, author of The Future Shock
 
"A brilliant and compelling look at creativity, and the path to succeed in the global world of tomorrow." —Harry Lodge, co-author of Younger Next Year