Travels with Charley in Search of America (Compact Disc)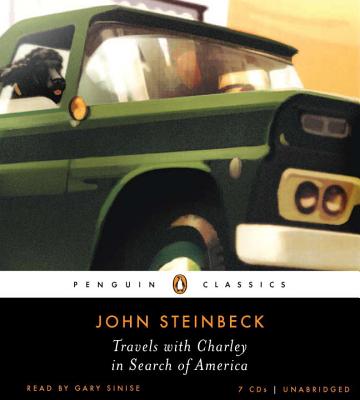 $29.95
Usually Ships in 1-5 Days
Description
---
In September 1960, John Steinbeck embarked on a journey across America. He felt that he might have lost touch with the country, with its speech, the smell of its grass and trees, its color and quality of light, the pulse of its people. To reassure himself, he set out on a voyage of rediscovery of the American identity, accompanied by a distinguished French poodle named Charley; and riding in a three-quarter-ton pickup truck named Rocinante.
His course took him through almost forty states: northward from Long Island to Maine; through the Midwest to Chicago; onward by way of Minnesota, North Dakota, Montana (with which he fell in love), and Idaho to Seattle, south to San Francisco and his birthplace, Salinas; eastward through the Mojave, New Mexico, Arizona, to the vast hospitality of Texas, to New Orleans and a shocking drama of desegregation; finally, on the last leg, through Alabama, Virginia, Pennsylvania, and New Jersey to New York.
About the Author
---
No writer is more quintessentially American than John Steinbeck. Born in 1902 in Salinas, California, Steinbeck attended Stanford University before working at a series of mostly blue-collar jobs and embarking on his literary career. Profoundly committed to social progress, he used his writing to raise issues of labor exploitation and the plight of the common man, penning some of the greatest American novels of the twentieth century and winning such prestigious awards as the Pulitzer Prize and the National Book Award. He received the Nobel Prize in 1962, "for his realistic and imaginative writings, combining as they do sympathetic humour and keen social perception." Today, more than thirty years after his death, he remains one of America's greatest writers and cultural figures.