Jacob Wonderbar for President of the Universe (Paperback)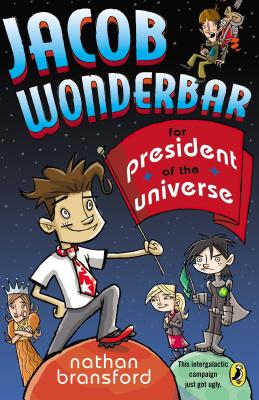 This Book Is Not Sold Online - In Store Special Order Only
Description
---
In this second installment of Nathan Bransford's zany series, Jacob Wonderbar gets a message that he has been nominated for President of the Universe. His best friends Sarah Daisy and Dexter agree to be his campaign managers, and they head back to space to declare Jacob's candidacy. But politics are dirty, especially in space. The trouble begins before Jacob's campaign has even started and stakes are higher than he imagined: It turns out that the Valkrians (a space faction that loves blowing stuff up) wants to destroy Planet Earth, and the President of the Universe is the only person who can stop them.
About the Author
---
Nathan Bransford is the author of How to Write a Novel, Jacob Wonderbar and the Cosmic Space Kapow, Jacob Wonderbar for President of the Universe and Jacob Wonderbar and the Interstellar Time Warp. He was formerly a literary agent with Curtis Brown Ltd. and now works in finance. He lives in Brooklyn.

C.S. Jennings has been a freelance illustrator for over a decade. Jennings has created caricatures, editorial cartoons, greeting cards, t-shirt art, logos, children's book, card games - you name it. he also wrote and illustrated the children's picture book Animal Band. In 1994, he won an Addy Award for his work in advertising.