The Desperado Who Stole Baseball (Paperback)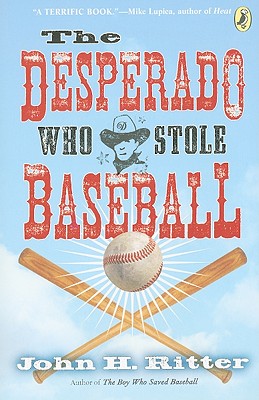 $7.99
Usually Ships in 1-5 Days
Description
---
The exciting prequel to the bestselling The Boy Who Saved Baseball.
The fate of a Wild West gold-mining town rests in the hands of two individuals. One is a twelve-yearold boy with a love and instinct for baseball unmatched by any grown-up. The other is the country's most infamous outlaw, on the run and looking for peace of mind. Together, they pair up to prove that heroes can emerge from anywhere. John H. Ritter brings the Old West to life in this prequel to his breakout success, "The Boy Who Saved Baseball."

About the Author
---
While John H. Ritter is well known for his imaginative baseball novels for young readers, "Under the Baseball Moon "expresses his other love: music. John's first novel, "Choosing Up Sides," won the 1999 IRA Children's Book Award and was named an ALA Best Book for Young Adults. His subsequent novels "Over the Wall "and "The Boy Who Saved Baseball" went on to secure John's place as the preeminent writer of baseball fiction for young people. A full-time writer of German, Irish, and American Indian descent, he lives in San Diego with his wife.