The Dude and the Zen Master (Paperback)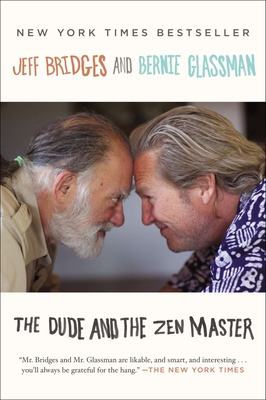 Description
---
A] truly incredible book about two friends talking about the good life. "Huffington Post "
Zen Master Bernie Glassman compares Jeff Bridges's iconic role in The Big Lebowski to a Lamed-Vavnik: one of the men in Jewish mysticism who are simple and unassuming, and so good that on account of them God lets the world go on. Jeff puts it another way. The wonderful thing about the Dude is that he d always rather hug it out than slug it out.
For more than a decade, Academy Award-winning actor Jeff Bridges and his Buddhist teacher, renowned Roshi Bernie Glassman, have been close friends. Inspiring and often hilarious, "The Dude and the Zen Master "captures their freewheeling dialogue and remarkable humanism in a book that reminds us of the importance of doing good in a difficult world.
About the Author
---
Jeff Bridges is an acclaimed Hollywood actor, writer, photographer, and cartoonist. His film career has included The Last Picture Show, Tron, The Fischer King, and The Big Lebowski.

Bernard (Bernie) Tetsugen Glassman is a dharma heir to Hakuyu Taizan Maezumi. He is the founder of the Peacemaker Circle, the famous Greyston Mandala and the Greyston Bakery (featured on 60 Minutes). He is author of "Infinite Circle" and, with Jeff Bridges, "The Dude and the Zen Master".
Praise For…
---
"Mr. Bridges and Mr. Glassman are likable, and smart, and interesting...[The Dude and the Zen Master] includes compelling discussions of Mr. Bridges's marriage, acting technique and close relationship with his father...you'll always be grateful for the hang."
—The New York Times

"[The Dude and the Zen Master] is an odd and wonderful little work that makes use of the transcendentally funny characters and language of [The Big Lebowski] as the starting point for a relaxed philosophical discussion about a wide variety of topics."—Los Angeles Times

"[A] truly incredible book about two friends talking about the good life."
—Huffington Post
 
"Whether he knows it or not, The Dude's laissez-faire attitude has become a model for coping with life's complexities...[in] The Dude and the Zen Master, one gets the impression he or she is eavesdropping on an intimate conversation...It's more than chicken soup for the soul, [it's] cacciatore for the spirit, a winner's guide to optimal living—a manual on how to Dude-ify oneself and just abide, man."
—Examiner.com (Cleveland)
 
"The Dude and the Zen Master is an exercise in likeability....[Bridges] is in rare form here....To know the Dude (and, by extension, Bridges' own meditational endgame) is to love him."
—The Hairpin
 
"[A] good conversation between good friends...One of the unexpected treats of The Dude and the Zen Master is the insights into who Jeff Bridges is behind the Dude persona...touching remembrances of his parents, his reflections on life as a devoted family man, and his behind-the-scenes stories of movies he's worked on [and] profound little Zen observations and insights sprinkled throughout the book."
—The Dudespaper
 
"The Dude and the Zen Master doesn't read like a traditional book at all—but rather riffs like a jam session....you'll feel as though you yourself sat in on the sessions with the dude behind the Dude in The Big Lebowski and Buddhist buddy, Bernie....And what's so cool is that the two of them manage to address many of life's profundities—relationships, politics, working, aging, living, dying—in this very funny and readable jam session."
—Rock Cellar Magazine


"The Dude and the Zen Master [is] a wonderful book of conversations...about acting and Zen and the long, fond relationship between these men."
—Sheila Heti, Financial Times