The Shape of Water (Paperback)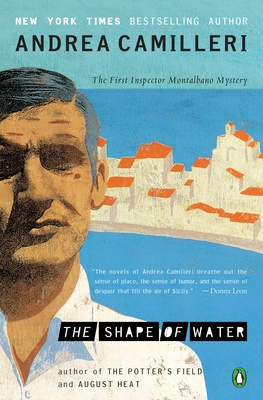 Description
---
"The Shape of Water "is the first book in the sly, witty, and engaging Inspector Montalbano mystery series with its sardonic take on Sicilian life
Silvio Lupanello, a big-shot in Vigata, is found dead in his car with his pants around his knees. The car happens to be parked in a part of town used by prostitutes and drug dealers, and as the news of his death spreads, the rumors begin. Enter Inspector Salvo Montalbano, Vigata's most respected detective. With his characteristic mix of humor, cynicism, compassion, and love of good food, Montalbano battles against the powerful and corrupt who are determined to block his path to the real killer.
Andrea Camilleri's novels starring Inspector Montalbano have become an international sensation and have been translated from Italian into eight languages, ranging from Dutch to Japanese.
A BEAM OF LIGHT is the newest novel in the Montalbano series and is now available from Penguin Books.
About the Author
---
Ne en 1925 presd'Agrigente, en Sicile, metteur en scene de theatre, realisateur de television et scenariste, Andrea Camilleris'est fait connaitre tardivement comme romancier, mais avec un succes foudroyant. Auteur culte de la serie des Montalbano, il ecrit parallelement des romans inspires par des documents d'archives.Chez Fayard sont parus"La Concession du telephone" (1999), "La Saison de la chasse" (2001, Prix de traduction Amedee Pichot), "Un filet de fumee" (2002), "Le Roi Zosimo" (2003), "Le Cours des choses" (2005), "La Prise de Makale" (2006), "Prive de titre" (2007), "Les Enquetes du commissaire Collura" (2008), "Petits" "Recits au jour le jour" (2008), "La Couleur du soleil" (2008), "Vous ne savez pas" (2009), "Le Pasteur et ses ouailles" (2009), "Maruzza Musumeci" (2009), "Le Grelot" (2010), "Le Ciel vole" (2010), "Un samedi entre amis" (2011), "Le Garde-barriere ("2012), "Le Coup de filet" (2012), "Le Neveu du Negus" (2013) et "Grand Cirque Taddei" (2014).

Stephen Sartarelli has translated widely from French and Italian, most recently works by Andrea Camilleri and Gabriele D Annunzio. His translations have won numerous prizes, including the Raiziss-De Palchi Award of the Academy of American Poets for" Songbook: Selected Poems of Umberto Saba" and the John Florio Award of the UK Society of Authors for "Prince of the Clouds" by Gianni Riotta.