What Maisie Knew (Paperback)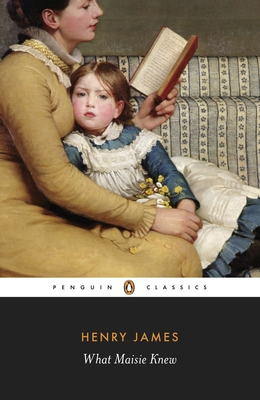 Description
---
A new edition of the innovative, emotionally complex novel.
After her parents bitter divorce, young Maisie Farange finds herself shuttled between her selfish mother and vain father, who value her only as a means for provoking each other. Maisie solitary, observant, and wise beyond her years is drawn into an increasingly entangled adult world of intrigue and sexual betrayal until she is finally compelled to choose her own future. Published in 1897 as Henry James was experimenting with narrative technique and fascinated by the idea of the child s-eye view, "What Maisie Knew"is a subtle yet devastating portrayal of an innocent adrift in a corrupt society.
For more than seventy years, Penguin has been the leading publisher of classic literature in the English-speaking world. With more than 1,700 titles, Penguin Classics represents a global bookshelf of the best works throughout history and across genres and disciplines. Readers trust the series to provide authoritative texts enhanced by introductions and notes by distinguished scholars and contemporary authors, as well as up-to-date translations by award-winning translators.
About the Author
---
Henry James was born the son of a religious philosopher in New York City in 1843. His famous works include The Portrait of a Lady, Washington Square, Daisy Miller, and The Turn of the Screw. He died in London in 1916, and is buried in the family plot in Cambridge, Massachusetts.
Christopher Ricks is a Warren Professor of the Humanities, codirector of the Editorial Institute at Boston University, and a member of the Association of Literary Scholars and Critics. He was formerly professor of English at the universities of Bristol and Cambridge.
Ricks is the author of Milton's Grand Style (1963), Tennyson (second edition, 1989), Keats and Embarrassment (1974), The Force of Poetry (1984), T.S. Eliot and Prejudice (1988), Beckett's Dying Words (1993), Essays in Appreciation (1996), Allusion to the Poets (2002), and Reviewery (2003). He is also the editor of Poems of Tennyson (second edition, 1987), The New Oxford Book of Victorian Verse (1987), A.E. Housman: Collected Poems and Selected Prose (1988), Inventions of the March Hare: Poems 1909-1917 by T.S. Eliot (1996), The Oxford Book of English Verse (1999), Selected Poems of James Henry (2002), and Decisions and Revisions in T.S. Eliot (2003).