The Secret of Platform 13 (Paperback)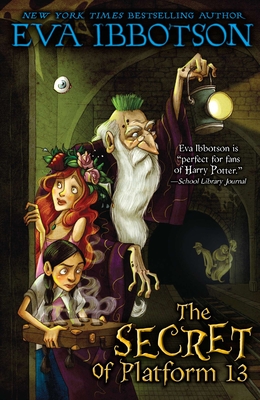 Description
---
A forgotten door on an abandoned railway platform is the entrance to a magical kingdom--an island where humans live happily with mermaids, ogres, and other wonderful creatures. Carefully hidden from the world, the Island is only accessible when the door opens for nine days every nine years. When the beastly Mrs. Trottle kidnaps the Island's young prince, it's up to a strange band of rescuers to save him. But can the rescuers--an ogre, a hag, a wizard, and a fey--sneak around London unnoticed? Fans of Roald Dahl, Lewis Carroll, and E. Nesbit will delight in this comic fantasy.
About the Author
---
Eva Ibbotson, born Maria Charlotte Michelle Wiesner (21 January 1925 20 October 2010), was an Austrian-born British novelist, known for her children's books. Some of her novels for adults have been successfully reissued for the young adult market in recent years. For the historical novel Journey to the River Sea (Macmillan, 2001), she won the Smarties Prize in category 9 11 years, garnered unusual commendation as runner up for the Guardian Prize, and made the Carnegie, Whitbread, and Blue Peter shortlists. She was a finalist for the 2010 Guardian Prize at the time of her death. Her last book, The Abominables, was one of eight books on the longlist for the same award in 2012.

Sue Porter was born in London and now lives in France. She is married, with two children. She worked as a geriatric nurse for a time and her hobbies were painting, the French language and playing the violin. She has been a full time illustrator for many years now and has illustrated more than 50 children's books.