PLEASE NOTE
Books must show: IN STOCK at your desired location for same day pick-up in stores. We recommend calling stores that show low stock numbers.
George Shrinks (Paperback)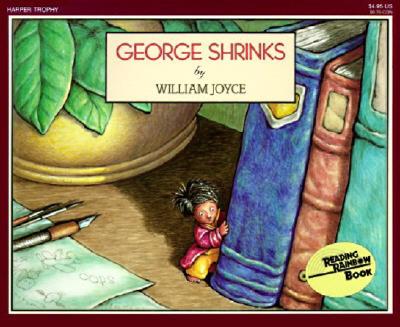 $6.99
In Stock - See Store Locations Below
Description
---
George has more adventures than James Bond!
Only three inches tall, he can ski down mountains of dishes, swim with goldfish, and take rides in his new toy airplane. But taking care of his giant baby brother and brushing his teeth can be real challenges for the mouse-sized George.
Ages 3-7
About the Author
---
William Joyce lives in Shreveport, Louisiana, with his lovely wife, Elizabeth, and their children, Mary Katherine and Jack. They also have a dachshund named Rose and something else named Rex. Mr. Joyce has produced two animated television shows based on his books: Rolie Polie Olie and George Shrinks. He also produced and designed the animated feature film Robots. Every once in a while he does a cover for The New Yorker. His alarmingly optimistic picture books include Dinosaur Bob and His Adventures with the Family Lazardo, Santa Calls, The Leaf Men and the Brave Good Bugs, and Bently & Egg.He is currently futzing around on several books and stories that embrace the alleged healing power of heroically scaled silliness.