The Incorrigible Children of Ashton Place: Book II: The Hidden Gallery (Paperback)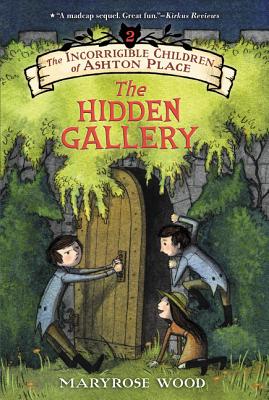 Staff Reviews
---
I know that this one has been out for awhile, but I finally
picked it up off the shelf and I'm so glad I did! Did you know Jon Klassen
illustrated it? Because he did and it's adorable and I love it. If you're
unfamiliar with these books, they're about three children who are mysteriously
found in the woods by a wealthy (and very proper) couple. The children, having
been raised by wolves, are unmanageable and incorrigible and therefore require
the help of a governess. Thankfully, Miss Penelope Lumley knows just how to
whip these children into shape. This is a touching story about friendship and
compassion. Also, it's quite funny!
— Anna, Books Inc. Palo Alto
Description
---
The second book in the Incorrigible Children of Ashton Place the acclaimed and hilarious Victorian mystery series by Maryrose Wood, perfect for fans of Lemony Snicket and Trenton Lee Stewart has a brand-new look.
Thanks to their plucky governess, Miss Penelope Lumley, Alexander, Beowulf, and Cassiopeia are much more like children than wolf cubs now. They are accustomed to wearing clothes. They hardly ever howl at the moon. And for the most part, they resist the urge to chase squirrels up trees.
Yet the Incorrigibles are not entirely civilized, and still managed to ruin Lady Constance's Christmas ball, nearly destroying the grand house. So while Ashton Place is being restored, Penelope, the Ashtons, and the children take up residence in London. As they explore the city, Penelope and the Incorrigibles discover more about themselves as clues about the children's and Penelope's own mysterious past crop up in the most unexpected ways....