Downton Abbey Script Book Season 3 (Paperback)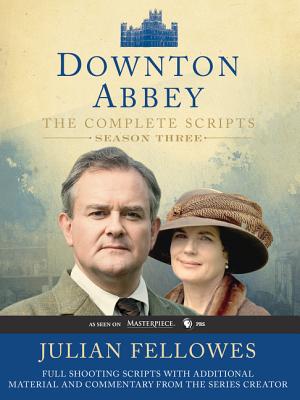 Description
---
The COMPLETE scripts of award-winning Downton Abbey, season THREE including previously unseen MATERIAL AND commentary
Downton Abbey fever is stronger than ever
The most successful British drama of our time continues to captivate viewers with its riveting storylines, stunning costumes, and unforgettable performances. With Downton Abbey's scripts from Season Three which was the most dramatic yet fans can go behind-the-scenes to learn all of the show's secrets. Offering readers the opportunity to explore the work in more detail and study the characters, pace, and themes in depth, the scripts include an introduction, exclusive commentary, full-color photos, and additional material from Julian Fellowes. Readers will be given invaluable insight into how Fellowes researched and crafted the amazing world of Downton Abbey. A must for lovers of Downton Abbey, the scripts will enhance viewer experience with the award-winning show that continues to enchant its audience.
Downton Abbey is what television should be. Daily Telegraph (UK) A true British gem. Daily Mail (UK)
About the Author
---
Julian Fellowes is the Emmy Award-winning writer and creator of "Downton Abbey "and the winner of the 2001 Academy Award for Best Original Screenplay for "Gosford Park. "He also wrote the screenplays for "Vanity Fair "and "The Young Victoria. "He is the bestselling author of "Snobs "and "Past Imperfect. "His other works include "The Curious Adventure of the Abandoned Toys "and the book for the Disney stage musical of "Mary Poppins. "
As an actor, his roles include Lord Kilwillie in the BBC Television series "Monarch of Glen" and the 2nd Duke of Richmond in "Aristocrats, " as well as appearances in the films "Shadowlands, " "Damage, " and "Tomorrow Never Dies."
He lives in London and Dorset, England.