The Forbidden Stone (Hardcover)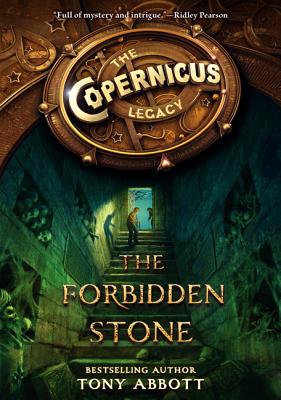 $16.99
Usually Ships in 1-5 Days
Description
---
Bestselling author Tony Abbott's epic new middle grade series, the Copernicus Legacy, begins with The Forbidden Stone, a thrilling adventure packed with puzzles, intrigue, and action. Fans of Rick Riordan and Ridley Pearson will love this first book in an exciting series that takes the reader all over the globe in a race to find pieces of a mysterious hidden past before it's too late.
Wade, Lily, Darrell, and Becca fly from Texas to Germany for the funeral of an old family friend. But instead of just paying their respects, they wind up on a dangerous, mind-blowing quest to unlock an ancient, guarded secret that could destroy the fate of the world.
Supports the Common Core State Standards.
About the Author
---
Tony Abbott is the author of more than seventy books for young readers, including the bestselling The Secrets of Droon series and the novels Kringle, Firegirl (winner of the 2006 Golden Kite Fiction Award), and most recently The Postcard. He lives and writes in Connecticut with his wife, two daughters, and their Corgi, Comet.
Bill Perkins sirvio como pastor principal por 24 anos y es el fundador y director ejecutivo de Million Mighty Men. Bill es graduado de la Universidad de Texas en Austin y del Seminario Teologico de Dallas Es autor o ha colaborado en un total de 20 libros. el y su esposa, Cindy, viven en West Linn, Oregon. Tienen tres hijos y dos nietos.
Bill Perkins served as a senior pastor for twenty-four years and is the founder and CEO of Million Mighty Men. He is a graduate of the University of Texas and Dallas Theological Seminary. He has authored or collaborated on twenty books.