However Long the Night: Molly Melching's Journey to Help Millions of African Women and Girls Triumph (Hardcover)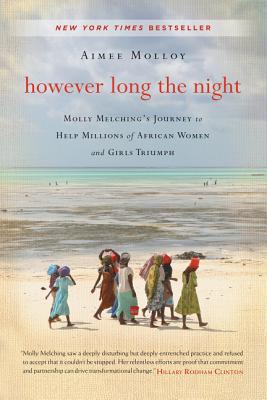 This Book Is Not Sold Online - In Store Special Order Only
Description
---
In However Long the Night, Aimee Molloy tells the unlikely and inspiring story of Molly Melching, an American woman whose experience as an exchange student in Senegal led her to found Tostan and dedicate almost four decades of her life to the girls and women of Africa.

This moving biography details Melching's beginnings at the University of Dakar and follows her journey of 40 years in Africa, where she became a social entrepreneur and one of humanity's strongest voices for the rights of girls and women.

Inspirational and beautifully written, However Long the Night: Molly Melching's Journey to Help Millions of African Women and Girls Triumph is a passionate entreaty for all global citizens. This book is published in partnership with the Skoll Foundation, dedicated to accelerating innovations from organizations like Tostan that address the world's most pressing problems.
About the Author
---
Aimee Molloy has collaborated on seven books, including Maziar Bahari's Then They Came for Me: A Family's Story of Love, Captivity, and Survival and Pam Cope's Jantsen's Gift: A True Story of Grief, Rescue, and Grace. She lives in Brooklyn, New York, with her husband and daughter.