PLEASE NOTE
Books must show: IN STOCK at your desired location for same day pick-up in stores. We recommend calling stores that show low stock numbers.
The Camelot Caper (Mass Market Paperbound)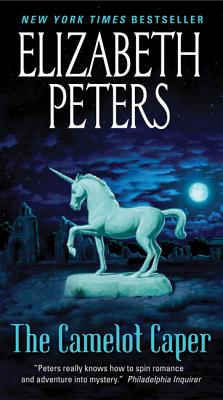 This Book Is Not Sold Online - In Store Special Order Only
Description
---
For Jessica Tregarth, an unexpected invitation to visit her grandfather in England is a wonderful surprisean opportunity to open doors to a family past that has always been closed to her. But sinister acts greet her arrival. A stranger tries to steal her luggage and later accosts her in Salisbury Cathedral. Mysterious villains pursue her through Cornwall, their motives and intentions unknown. Jessica's only clue is an antique heirloom she possesses, an ancient ring that bears the Tregarth family crest. And her only ally is handsome gothic novelist David Randallher self-proclaimed protectorwho appears from seemingly out of nowhere to help her in her desperate attempt to solve a five-hundred-year-old puzzle. For something from out of the cloudy mists of Arthurian lore has come back to plague a frightened American abroad. And a remarkable truth about a fabled king and a medieval treasure could ultimately make Jess Tregarth very rich . . . or very dead.
About the Author
---
Elizabeth Peters earned her Ph.D. in Egyptology from the University of Chicago's famed Oriental Institute. She was named Grand Master at the inaugural Anthony Awards in 1986 and Grand Master by the Mystery Writers of America in 1998. In 2003, she received the Lifetime Achievement Award at the Malice Domestic Convention. She lives in a historic farmhouse in western Maryland.