PLEASE NOTE
Books must show: IN STOCK at your desired location for same day pick-up in stores. We recommend calling stores that show low stock numbers.
Everything Is Perfect When You're a Liar (Paperback)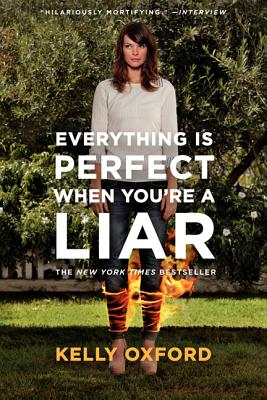 $15.99
Usually Ships in 1-5 Days
Description
---
From her beginnings as a wunderkind producer of pirated stage productions for six-year-olds, through her spirited adventures watching self-satisfying monkeys, throwing up on Chinese food deliverymen, and stalking Leo DiCaprio, here are the goofy highs and horrifying lows of life as Kelly Oxford.
About the Author
---
Kelly Oxford, dubbed "the Queen of Twitter" by Details, started writing at five years old when she penciled "I had a baby" into her Hello Kitty diary, and she hasn't stopped since. She now writes words that companies like Warner Bros., CBS, and NBC have bought for film and television and magazines like GQ have published. You can read more of her words online in places like Twitter (@kellyoxford) and Tumblr (kellyoxford.tumblr.com). Born in Edmonton, Canada, she currently lives in Los Angeles with her husband and three children, who all wish they weren't in this book.