Luck or Something Like It: A Memoir (Large Print / Paperback)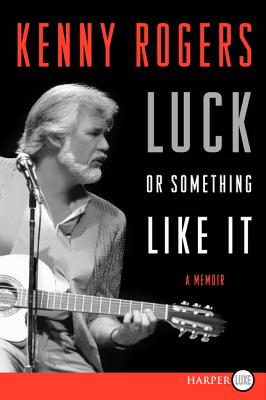 $27.99
Usually Ships in 1-5 Days
Description
---
For more than half a century, living legend Kenny Rogers has recorded some of the most beloved music in America and around the world, creating a sound both wholly original and instantly recognizable. Now, in his first-ever memoir, this rare talent divulges the struggles of his long road to success and how, through it all, he's stayed true to his values as a performer and a person.
Recounting the journey from his early years to today, Kenny charts breakout hits, disappointing misses, and the periods of soul-searching that have led him to reinvent his sound countless times and experiment with everything from gospel to country to R&B. Along the way, he tells stories that have since become legend, as Kenny recalls the making of his classic songs and shares the stories behind his most important friendships with stars like Dottie West, Lionel Richie, and, of course, Dolly Parton.
Staring across the decades, Kenny writes a story seemingly straight from one of his songs, resulting in a rollicking ride through fifty years of music history.
About the Author
---
Kenny Rogers is a respected singer and musician who is an icon in the country music world. He is also a writer and a producer of plays, musicals and television specials. Mr. Rogers is the author of two picture books, "Kenny Rogers Presents the Greatest " and "The Toy Shoppe."
Praise For…
---
"Rogers is an exquisite storyteller, able to get across a range of ideas and emotions in songs like 'Lucille' and 'The Gambler.' That breezy, conversational tone comes across on the page."
-Entertainment Weekly

"In his aw-shucks, sit-down-and-listen-for-a-spell memoir.... he reminisces in never-before-told stories…Rogers gracefully recalls the ups and downs on his wild ride to fame."
-BookPage

"Engagingly honest."
-Toronto Star