PLEASE NOTE
Books must show: IN STOCK at your desired location for same day pick-up in stores. We recommend calling stores that show low stock numbers.
Spirit Rising: My Life, My Music (Hardcover)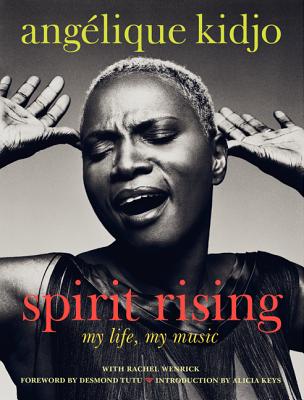 $27.99
Usually Ships in 1-5 Days
Description
---
Grammy Award-winning singer Angelique Kidjo is known for her electrifying voice and fearless advocacy work. In this intimate memoir, she reveals how she escaped Communist Africa to make her dreams a reality, and how she's prompting others all around the world to reach for theirs as well.
Born in the West African nation of Benin, Angelique Kidjo grew up surrounded by the rich sounds, rhythms, and storytelling of traditional Beninese culture. When the Communists took over, they silenced her dynamic culture and demanded that she sing in praise of them. In Spirit Rising: My Life, My Music, Angelique reveals the details of her dangerous escape into France, and how she rose from poverty to become a Grammy Award-winning artist and an international sensation at the top of Billboard's World Albums chart. She also explains why it's important to give back by sharing stories from her work as a UNICEF ambassador and as founder of the Batonga Foundation, which gives African girls access to education.
Desmond Tutu has contributed the foreword to this remarkable volume; Alicia Keys has provided an introduction. Her eloquent, inspiring narrative is paired with more than one hundred colorful photographs documenting Angelique's life and experiences, as well as a sampling of recipes that has sustained her on her remarkable odyssey.
About the Author
---
Angelique Kidjo is a Grammy Award-winning musician, a UNICEF ambassador, and the founder of the Batonga Foundation, which gives African girls access to education. She has collaborated with artists including Carlos Santana, Peter Gabriel, Alicia Keys, Josh Groban, Branford Marsalis, and Joss Stone, and has been praised by leading political figures such as Bill Clinton, Nelson Mandela, and Desmond Tutu.

Rachel Wenrick received an MFA from Columbia University. She lives in Philadelphia and teaches at Drexel University.

Desmond Mpilo Tutu was awarded the Nobel Peace Prize in 1984. In 1986 he was elected archbishop of Cape Town, the highest position in the Anglican Church in South Africa. In 1994, after the end of apartheid and the election of Nelson Mandela, Tutu was appointed as chair of South Africa's Truth and Reconciliation Commission to investigate apartheid-era crimes. His policy of forgiveness and reconciliation has become an international example of conflict resolution and a trusted method of postconflict reconstruction. He is currently the chair of The Elders, where he gives vocal defense of human rights and campaigns for the oppressed.