State of Wonder (Large Print / Paperback)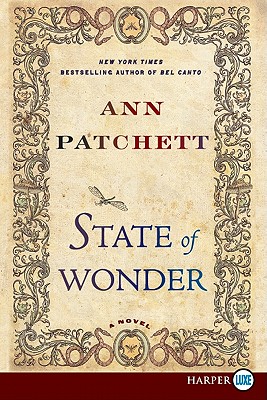 This Book Is Not Sold Online - In Store Special Order Only
June 2011 Indie Next List
---
"When Marina Singh receives a note that her office mate, Anders Eckman, has died in the Amazon while investigating scientific work on female fertility, she is persuaded to follow him into the jungle in search of the doctor with whom he worked - who has also exerted a crucial influence on Marina's life - and to retrieve Anders' personal effects. This spellbinding, richly atmospheric novel raises ethical questions about scientific research and discovery, loyalty, honesty, and love. Not to be missed!"
— Tova Beiser, Brown University Bookstore, Providence, RI
April 2012 Indie Next List
---
"When Marina Singh receives a note that her office mate, Anders Eckman, has died in the Amazon while investigating scientific work on female fertility, she is persuaded to follow him into the jungle in search of the doctor with whom he worked -- who has also exerted a crucial influence on Marina's life - and to retrieve Anders' personal effects. This spellbinding, richly atmospheric novel raises ethical questions about scientific research and discovery, loyalty, honesty, and love. Not to be missed!"
— Tova Beiser, Brown University Bookstore, Providence, RI
Description
---
Dr. Marina Singh, a research scientist with a Minnesota pharmaceutical company, is sent to the Amazon to find her former mentor, Dr. Annick Swenson, who seems to have disappeared while working on a new drug. No one knows where Dr. Swenson is, and the last person sent to find her died before completing his mission. Plagued by trepidation, Marina embarks on an odyssey in hopes of finding answers.
Now in her seventies, the uncompromising Dr. Swenson dominates her research team and the natives with the force of an imperial ruler. But while she is as threatening as anything the jungle has to offer, the greatest sacrifices are those Dr. Swenson asks of herself, and will ultimately ask of Marina, who finds she is still unable to live up to her teachers expectations.
Replete with poison arrows, devouring snakes, and cannibals, State of Wonder is a tale that leads you into the very heart of darkness, and then shows what lies on the other side.
About the Author
---
Ann Patchett is the author of six novels and three books of nonfiction. She has won many prizes, including Britain's Orange Prize, the PEN/Faulkner Prize, and the Book Sense Book of the Year. Her work has been translated into more than thirty languages. She lives in Nashville, Tennessee, where she is the co-owner of Parnassus Books.
Praise For…
---
"An engaging, consummately told tale."
-New York Times

"Emotionally lucid. . . . Patchett is at her lyrical best when she catalogues the jungle."
-The New Yorker

"This is surely the smartest, most exciting novel of the summer."
-Washington Post

"The Amazon setting is something Patchett does rather marvelously. . . . The book is serious, but also so pleasurable that you hope it won't end."
-NPR

"Outlandishly entertaining . . . [with] a brilliantly constructed plot."
-Elle

"Packs a textbook's worth of ethical conundrums into a smart and tidily delivered story. . . . Ms. Patchett presents an alluring interplay between civilization and wilderness, between aid and exploitation."
-Wall Street Journal

"The large canvas of sweeping moral issues, both personal and global, comes to life through careful attention to details, however seemingly mundane—from ill-fitting shoes and mosquito bites to a woman tenderly braiding another woman's hair."
-O, the Oprah Magazine

"A spellbinder from bestselling author Patchett. . . . Thrilling, disturbing and moving in equal measures—even better than Patchett's breakthrough Bel Canto."
-Kirkus Reviews (starred review)

"An expansive page-turner . . . Patchett's fluid prose dissolves in the suspense of this out-there adventure . . . that readers will hate to see end."
-Publishers Weekly (starred review)

"A superbly rendered novel. . . . Patchett's portrayal is as wonderful as it is frightening and foreign. Patchett exhibits an extraordinary ability to bring the horrors and the wonders of the Amazon jungle to life, and her singular characters are wonderfully drawn. . . . Powerful and captivating."
-Library Journal (starred review)

"In fluid and remarkably atmospheric prose, Patchett captures not only the sights and sounds of the chaotic jungle environment but also the struggles and sacrifice of dedicated scientists."
-Booklist

"A thrilling new novel. . . . The world imagined in this novel is unusually vivid. . . . Reading State of Wonder is a sensory experience, and even after it's over you'll keep hearing the sounds of insects, and your own head will still be hot."
-MORE Magazine

"Patchett makes the jungle jump off the page…This is Patchett's best effort since The Patron Saint of Liars and, yes, that includes Bel Canto"
-Shelf Awareness