PLEASE NOTE
Books must show: IN STOCK at your desired location for same day pick-up in stores. We recommend calling stores that show low stock numbers.
Quarantine (Paperback)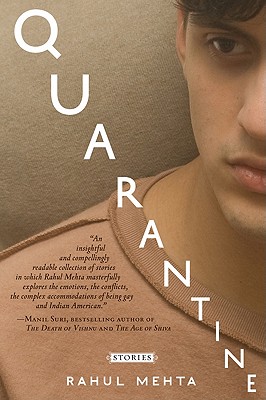 $14.99
In Stock - See Store Locations Below
Description
---
With buoyant humor and incisive, cunning prose, Rahul Mehta sets off into uncharted literary territory. The characters in Quarantineopenly gay Indian-American menare Westernized in some ways, with cosmopolitan views on friendship and sex, while struggling to maintain relationships with their families and cultural traditions. Grappling with the issues that concern all gay mensocial acceptance, the right to pursue happiness, and the heavy toll of listening to their hearts and bodiesthey confront an elder generation's attachment to old-country ways. Estranged from their cultural in-group and still set apart from larger society, the young men in these lyrical, provocative, emotionally wrenching, yet frequently funny stories find themselves quarantined.
Already a runaway success in India, Quarantine marks the debut of a unique literary talent.
About the Author
---
Rahul Mehta received his MFA from Syracuse University, where he was the Cornelia Carhart Ward Fellow. Portions of Quarantine have appeared in New Stories from the South, The Kenyon Review, The Sun, Epoch, Noon, and Fourteen Hills. Mehta lives with his partner in Alfred, New York, and teaches at Alfred University.
Praise For…
---
"There are great realistic relationship stories [in Quarantine], of meetings, breakups, and the times in between...patrons will read it because of the promise evidenced by this young writer."
-Booklist

"Because Rahul Mehta's characters are so richly and deeply rendered, because action and situation are so closely observed, these stories transcend all the categories that they are also determined to cut across. Quarantine is the best first collection I have read in over twenty years."l
-Madison Smartt Bell

"Quarantine is an insightful and compellingly readable collection of stories in which Rahul Mehta masterfully explores the emotions, the conflicts, the complex accommodations of being gay and Indian American."
-Manil Suri, bestselling author of The Death of Vishnu and The Age of Shiva

"Mehta's voice is smart, intimate without being over-the-shoulder, tells secrets from the armchair, and always gestures toward something inexplicable and heretofore unknown in the next room. The stories in this collection make me want to burn money, to have more courage and to fall in love."
-Rebecca Curtis, author of Twenty Grand and Others Tales of Love & Money

"The stories in Rahul Mehta's Quarantine amplify a surprising new voice: gentle, even tender, but powerful."
-Pankaj Mishra, author of Butter Chicken in Ludhiana

"A rich study of family ties, romantic failings and cultural disconnection told in crisp, clean prose"
-Kirkus

"QUARANTINE is an extraordinary book that transcends gender and race and culture and sexual identity to speak to our universal humanity and the quest we all share for a self."
-Robert Olen Butler

"Traversing queer love, sex and the myths of cultural conservatism, this young writer…challenges the legitimacy of the American Dream."
-Lambda Literary