Afterlives of the Rich and Famous (Large Print / Paperback)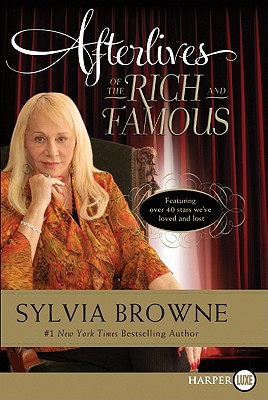 This Book Is Not Sold Online - In Store Special Order Only
Description
---
Look into the Lives of Our Most Beloved CelebritiesAfter Their Deaths
For the first time, beloved psychic Sylvia Browne reveals how cherished stars are using their talents since their deaths. Which celebrity is working on a cure for cancer? Which musical legend has been composing and sharing songs with a young musical prodigy here on earth, unbeknownst to the future performer? And which two stars are eternal soul mates? From longtime regrets to newfound passions, Afterlives of the Rich and Famous includes everything these deceased starsincluding Princess Diana, John Lennon, Marilyn Monroe, and many moremost want to share.
By channeling her longtime spirit guide, Francine, Browne gained unrestricted access to a dimension most of us can only imagine, one where telepathic communication is the norm and everyone occupies their healthy, thirty-year-old body. Afterlives of the Rich and Famous is a book that no one else could have written, and a must-read for every fan of this extraordinary assembly of celebrities.
About the Author
---
Sylvia Browne (October 19, 1936 November 20, 2013) was a #1 New York Times bestselling author and world-famous psychic who appeared regularly on the Montel Williams Show and on Larry King Live, as well as making countless other media and public appearances. She also founded the Society of Novus Spiritus church, which celebrated its 25th anniversary in 2011.

Lindsay Harrison grew up in Massachusetts, and attended Brown University and Columbia School of the Arts. She lives in Brooklyn, New York. This is her first book.