The Real Boy (Paperback)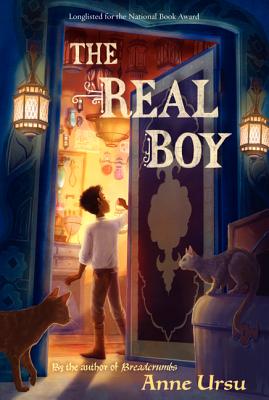 Staff Reviews
---
Oscar is an orphan. He was raised as the "hand" to a
magician on an island where magic is all but lost to the people. Long ago,
there were many wizards who used their magic to do extraordinary things. Now,
few can use magic in the way that it is meant to be used. When something
terrible happens to Wolf, the magician's assistant, the magician must travel
far across the country in hopes of discovering what really happened to Wolf.
When the magician leaves, Oscar is left to care for the magician's magic shop.
However, Oscar is much more comfortable with plants and cats than he is with
people. It isn't until Callie, the healer's assistant, comes to Oscar and helps
him with his people skills. But when the city children begin falling ill and no
one wants to know the truth, it's up to Oscar and Callie to discover what's
really going on. This is one of my favorite books from last year and it's
perfect for those rapid fantasy lovers. Anyone who enjoyed Harry Potter
or Narnia will devour this one!
— Anna, Books Inc. Palo Alto
Description
---
National Book Award Longlist2014 Bank Street Children's Book Committee Best Book of the Year"Beautifully written and elegantly structured, this fantasy is as real as it gets." Franny Billingsley, author of Chime
The Real Boy, Anne Ursu's follow-up to her widely acclaimed and beloved middle grade fantasy Breadcrumbs, is a spellbinding tale of the power we all wield, great and small.
On an island on the edge of an immense sea there is a city, a forest, and a boy named Oscar. Oscar is a shop boy for the most powerful magician in the village, and spends his days in a small room in the dark cellar of his master's shop grinding herbs and dreaming of the wizards who once lived on the island generations ago. Oscar's world is small, but he likes it that way. The real world is vast, strange, and unpredictable. And Oscar does not quite fit in it.
But now that world is changing. Children in the city are falling ill, and something sinister lurks in the forest. Oscar has long been content to stay in his small room in the cellar, comforted in the knowledge that the magic that flows from the forest will keep his island safe. Now, even magic may not be enough to save it.