PLEASE NOTE
Books must show: IN STOCK at your desired location for same day pick-up in stores. We recommend calling stores that show low stock numbers.
The Forgotten Man: A New History of the Great Depression (Paperback)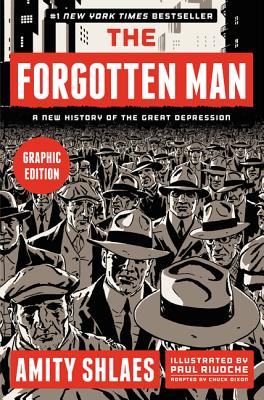 $19.99
In Stock - See Store Locations Below
Description
---
An illustrated edition of Amity Shlaes's bestseller The Forgotten Man, featuring vivid black-and-white illustrations that capture this dark period in American history and the men and women, from all walks of life, whose character and ideas helped them persevere
It's difficult today to imagine how America survived the Great Depression. Only through the stories of the common people who struggled during that era the ones with rock-solid values that helped them through the toughest of times can we really understand how the nation endured.
These are the people at the heart of The Forgotten Man. This imaginative illustrated edition highlights one of the most devastating periods in our nation's history through the lives of American people, from politicians and workers to businessmen, farmers, and ordinary citizens. Smart and stylish black-and-white art from acclaimed illustrator Paul Rivoche provides an utterly original vision of the coexistence of despair and hope that characterized Depression-era America. Shlaes's narrative and Rivoche's art illuminate key economic concepts, showing how government intervention helped to make the Depression great by overlooking the men and women who were trying to help themselves.
The Forgotten Man Graphic Edition captures the spirit of this crucial moment in American history and the steadfast character and ingenuity of those who lived it.
About the Author
---
Amity Shlaes writes a column for Forbes and serves as the chairman of the Calvin Coolidge Presidential Foundation. She is the author of the New York Times bestsellers Coolidge, The Forgotten Man, and The Greedy Hand. She chairs the jury for the Hayek Book Prize of the Manhattan Institute. She lives in Brooklyn, New York.