Victory: The Triumphant Gay Revolution (Paperback)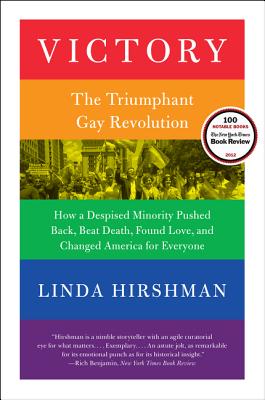 This Book Is Not Sold Online - In Store Special Order Only
Description
---
When the modern struggle for gay rights erupted in the summer of 1969, forty-nine states outlawed sex between people of the same gender. Four decades later, in 2011, New York legalized gay marriage and the armed services stopped enforcing Don't Ask, Don't Tell. Successful social movements are always extraordinary, but these advances were something of a miracle.
Supreme Court lawyer and political pundit Linda Hirshman recounts the long roads that led to these victories, detailing the enthralling and groundbreaking story of the movement that has blurred rigid gender lines, altered the shared culture, and broadened our definitions of family. Written in vivid prose, at once emotional and erudite, Victory is an utterly vibrant work of reportage and eyewitness accounts, revealing how, in a matter of decades, a focused group of activists forged a classic campaign for cultural change that will serve as a model for all future political movements.
About the Author
---
Linda Hirshman is a lawyer, a cultural historian, and the author of Victory: The Triumphant Gay Revolution and many other books. She received her JD from the University of Chicago Law School and her PhD in philosophy from the University of Illinois at Chicago, and has taught philosophy and women s studies at Brandeis University. Her writing has appeared in the New York Times, the Washington Post, Slate, Newsweek, the Daily Beast, and POLITICO. She lives in Arizona and New York City.
Praise For…
---
"As popular history, Victory excels. Hirshman is a nimble storyteller with an agile curatorial eye for what matters. . . . Exemplary. . . . I find Victory to be an astute jolt, as remarkable for its emotional punch as for its historical insight."
-Rich Benjamin, New York Times Book Review

"Hirshman has produced a remarkable history of the gay-rights movement in America by chronicling many of the people and events that shaped it. She has a smart and engaging style, which is serious but not ponderous. . . . with new clarity and simple, fresh insight."
-NewYorker.com

"Sharp and cogent throughout. . . . Victory is ultimately a deeply moving narrative of a not-quite-finished freedom struggle."
-Boston Globe

"Given that the gay rights saga is very much in process, the ending of Hirshman's book is a cliffhanger, but she does a masterful job of making her readers, whether they're familiar with the material or not, want to know what happens next."
-Los Angeles Times

"Exhilarating. . . . As an overview of recent American LGBT history, Victory has plenty to recommend it. . . . A good starting point for learning about recent gay history."
-San Francisco Chronicle

"Victory is one of the most important (and readable) gay-history texts around."
-Philadelphia City Paper

"An inclusive, fascinating history of the gay rights movement that provides fertile grounds for passionate debate."
-Shelf Awareness

"An astonishing work that seamlessly weaves together multiple stories into one authoritative volume. Highly recommended for political scientists, civil rights activists, and students of LGBT history."
-Library Journal (starred review)

"Victory tells the fascinating inside story of how gay activists changed America for the better, not just for themselves but for everyone. There's inspiration here for everyone who wants a fairer, more equal society-- and plenty of hope as well."
-Katha Pollitt, Nation columnist

"Linda Hirshman has written an important and necessary book that should be read in every school and every home in the country."
-Amanda Foreman, author of A World on Fire

"Hirshman . . . offers perceptive comparisons between the gay-rights movement and other, concurrent movements for equality."
-Kirkus Reviews

"This exuberant history of arguably the final and most difficult civil rights struggle relates, in surprisingly upbeat fashion, the fight 'to slowly bend the arc of history toward justice' for gay men and women. . . . Undeniably inspiring."
-Publishers Weekly

"Before he died, gay rights hero Arthur Evans told Linda Hirshman to tell our story. And she does so brilliantly--with insight, passion and the keen eye of a fierce social scientist. And what a story it is! Arthur Evans would be proud."
-Eric Marcus, author of Making Gay History and What If Someone I Know Is Gay?

"I picked this book up one night and never got to sleep. Victory is an epic account of our movement's progress; a beautifully written and fast moving narrative that is poignant, humorous, and inspiring."
-Cleve Jones, Founder of The NAMES Project AIDS Memorial Quilt

"Linda Hirshman's Victory is the chronicle that the brilliant, unremitting gay movement deserves. Deeply informed with human detail, political theory, and legal analysis alike, it moves fluidly out of the closet to the precincts . . . A genuine, sparkling tour de force."
-Todd Gitlin, author of Occupy Nation

"A compulsively readable mix of philosophy, social history and journalism, Hirshman's [book] provides an invaluable understanding of the people across the years who have worked so passionately to increase liberty and justice in our union."
-Rebecca Traister, author of Big Girls Don't Cry

"Hirshman has done a great service in putting the question of morality in this movement on the table. Though important chapters are yet to be written, this book will help the world to see that gay is good-and getting better."
-Slate

"Victory's tone is thoughtful and modest, exploring large themes through individuals' stories. . . . The book gives a moving picture of a history many won't know."
-American Prospect

"Her analysis of what makes social movements succeed is always thoughtful and sometimes profound. . . . The result is always entertaining and frequently exhilarating."
-BusinessWeek

"Hirshman provides an excellent and very readable history that is buttressed by an impressive amount of research and personal interviews.
-Edge