Labor Day (Large Print / Paperback)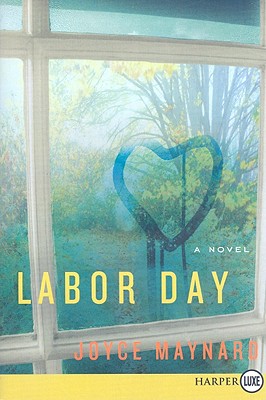 $24.99
Usually Ships in 1-5 Days
August 2009 Indie Next List
---
"In Labor Day, Joyce Maynard has created three well-written and engaging characters, has put them in an extraordinary situation, and has delivered a wonderful book. I admit to being teary during the last few pages."
— Lisa Sharp, Nightbird Books, Fayetteville, AR
November 2010 Indie Next List
---
"Labor Day is a novel about seeing the good in someone when no one else can; how spending a few minutes sharing a talent with a child can affect his entire life and the person he ultimately becomes; about true love that, once found, can never be torn away no matter how strong the outside forces; about families and what the word really means; about believing that someone can be better than they think they are and having the same beliefs about yourself; and about hope, trust, and forgiveness. A natural for book group discussion!"
— Cathy Allard, BayShore Books LLC, Oconto, WI
Description
---
Joyce Maynard is in top-notch form withLabor Day. Simply a novel you cannot miss.
Jodi Picoult, New York Timesbestselling author ofMy Sister's KeeperandKeeping Faith
Maynard has created an ensemble of characters that will sneak into your heart, and warm it while it breaks.
St. Petersburg Times
Joyce Maynard, acclaimed author ofAt Home in the World, is back withLabor Day.Theunforgettable story of a mother and son forever changed during a long summer weekend when a mysterious man comes into their lives.Labor Day is a sexy, page turning, poignant story (Jane Hamilton, author ofA Map of the World) that affirms Maynard's reputation as a master storyteller and shows her to be a passionate humanist with a gifted ear and heart (People)
About the Author
---
Joyce Maynard is the author of eight previous novels, including To Die For, Labor Day, The Good Daughters, and four books of nonfiction. She lives in California.
Praise For…
---
"Joyce Maynard is in top-notch form with Labor Day. From the perfect pitch of a teenaged boy narrator to the eloquent message of how loneliness can bind people together, this is simply a novel you cannot miss."
-Jodi Picoult, New York Times bestselling author of My Sister's Keeper and Handle With Care

"[The] story is moving and fast-moving, affirming Maynard's reputation as a master storyteller and showing her to be a passionate humanist with a gifted ear and heart. . . . Maynard illuminates the human experience."
-People (Four Stars)

"Maynard expertly tugs heartstrings in a tidy tale. "
-Kirkus Reviews

"Maynard's inventive coming-of-age tale indelibly captures the anxiety and confusion inherent in adolescence, while the addition of a menacing element of suspense makes this emotionally fraught journey that much more harrowing."
-Booklist

"Maynard is in top form in this tale of love, betrayal, and forgiveness."
-Associated Press

"Maynard deftly pulls the reader into the fragile lives of these three vulnerable characters and their preordained march toward the novel's denouement. A marvelous read––perfect for one long sitting––this novel leaves the reader wishing it didn't ever have to end."
-BookPage

"Maynard...is in top form in this tale of love, betrayal and forgiveness."
-Record Searchlight (Redding, CA)

"beautifully written"
-New Orleans Times-Picayune

"Maynard offers fresh insight into what constitutes family."
-USA Today

"It is a testament to Maynard's skill that she makes this ominous setup into a convincing and poignant coming-of-age tale."
-Washington Post

"Maynard details Henry's roller-coaster emotions for Frank – he is both jealous and grateful – and his mother's emotional journeys – with skill and tenderness for the uncertain willingness of broken hearts to mend. The poignant results are revealing of our ability to forgive and to grow."
-Smart Money

"Labor Day is suffused with tenderness, dreaminess and love....first and foremost a page-turner...[it] puts back together the world that it destroys....you definitely need to get a box of tissues."
-Newsday

"a haunting and hopeful story"
-Hartford Courant

"[A] sweet, swift read that will leave you feeling good."
-Minneapolis Star Tribune

"surprisingly moving"
-Arizona Republic

"The novel is an extended meditation on the nature of love, grief and loneliness.... Maynard has created an ensemble of characters that will sneak into your heart, and warm it while it breaks. "
-St. Petersburg Times

"Maynard gets inside the head of an adolescent boy who is grappling with his own identity and the mysteries of sex (while revealing the secrets of making perfect pie crust). "
-Salt Lake City Tribune

"Maynard spins a fascinating story of damaged people seeking the one thing they long for – love. "
-Wichita Falls, TX, Times Record News

"Labor Day is a startling novel of love, friendship, trust, treachery, betrayal, and the deep lessons that we learn in life.... It's a powerful, poignant mix in the hands of author Joyce Maynard and a novel no one should miss."
-www.Gather.com

"Labor Day is both a coming-of-age story and a love story- a tale of profound loss, redemption and soul searching that is not to be missed."
-www.MyDailyFind.com

"Maynard has created an ensemble of characters that will sneak into your heart, and warm it while it breaks."
-St. Petersburg Times

"But apart from being a successful thriller, this book is a fascinating portrait of what causes a family to founder, and how much it can cost to put it back on the right path. "
-NPR.org

"At once beautiful and disturbing, this remarkable novel…is a moving read."
-BookPage.com on LABOR DAY

"an uplifting story told by a boy who is just beginning to understand what life is all about."
-St. Petersburg Times