The Mysterious Howling (Paperback)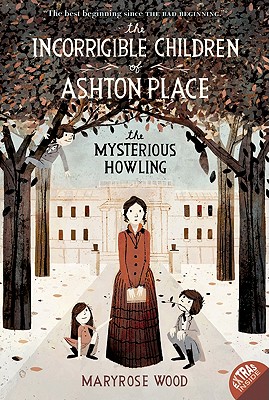 This Book Is Not Sold Online - In Store Special Order Only
Staff Reviews
---
I know that this one has been out for awhile, but I finally
picked it up off the shelf and I'm so glad I did! Did you know Jon Klassen
illustrated it? Because he did and it's adorable and I love it. If you're
unfamiliar with these books, they're about three children who are mysteriously
found in the woods by a wealthy (and very proper) couple. The children, having
been raised by wolves, are unmanageable and incorrigible and therefore require
the help of a governess. Thankfully, Miss Penelope Lumley knows just how to
whip these children into shape. This is a touching story about friendship and
compassion. Also, it's quite funny!
— Anna, Books Inc. Palo Alto
Description
---
Of especially naughty children, it is sometimes said: They must have been raised by wolves. The Incorrigible Children actually were. Discovered in the forest of Ashton Place, the Incorrigibles are no ordinary children. Luckily, Miss Penelope Lumley is no ordinary governess. A recent graduate of the Swanburne Academy for Poor Bright Females, Penelope embraces the challenge of her new position. Though she is eager to instruct the children in Latin verbs and the proper use of globes, first she must eliminate their canine tendencies. But mysteries abound at Ashton Place: Who are these three wild creatures? Why does Old Timothy, the coachman, lurk around every corner? Will Penelope be able to civilize the Incorrigibles in time for Lady Constance's holiday ball? And what on earth is a schottische? Penelope is no stranger to mystery, as her own origins are also cloaked in secrecy. But as Agatha Swanburne herself once said, Things may happen for a reason, but that doesn t mean we know what the reason is at least, not yet.
About the Author
---
Maryrose Wood is the author of the first five books (so far!) in this series about the Incorrigible children and their governess. These books may be considered works of fiction, which is to say, the true bits and the untrue bits are so thoroughly mixed together that no one should be able to tell the difference. This process of fabrication is fully permitted under the terms of the author's Poetic License, which is one of her most prized possessions.
Maryrose's other qualifications for writing these tales include a scandalous stint as a professional thespian, many years as a private governess to two curious and occasionally rambunctious pupils, and whatever literary insights she may have gleaned from living in close proximity to a clever but disobedient dog.
Jon Klassen grew up in Niagara Falls, Canada, and now lives in Los Angeles, California. He is the Caldecott Award-winning author and illustrator of I Want My Hat Back and This Is Not My Hat, as well as the illustrator of Sam and Dave Dig a Hole and Extra Yarn by Mac Barnett; The Dark by Lemony Snicket; House Held Up by Trees by Ted Kooser; Cats' Night Out by Caroline Stutson; and the first three books in the Incorrigible Children of Ashton Place series.
Praise For…
---
It's the best beginning since The Bad Beginning (1999) [by Lemony Snicket] and will leave readers howling for the next episode.
-Kirkus Reviews (starred review)

"How hearty and delicious...Smartly written with a middle-grade audience in mind, this is both fun and funny and sprinkled with dollops of wisdom (thank you, Agatha Swanburne). How will it all turn out? Appetites whetted."
-Booklist (starred review)

With a Snicketesque affect, Wood's narrative propels the drama…pervasive humor and unanswered questions should have readers begging for more.
-Publishers Weekly (starred review)

Jane Eyre meets Lemony Snicket in this smart, surprising satire. Humorous antics and a climactic cliff-hanger ending will keep children turning pages and clamoring for the next volume, while more sophisticated readers will take away much more. Frequent plate-sized illustrations add wit and period flair.
-School Library Journal (starred review)

Every newspaper and website in America is going to tell you that The Mysterious Howling will leave you HOWLING FOR MORE! So I'm not going to say that. But it's really good.
-Adam Rex, author of The True Meaning of Smekday