The Devil Colony: A SIGMA Force Novel (Mass Market Paperbound)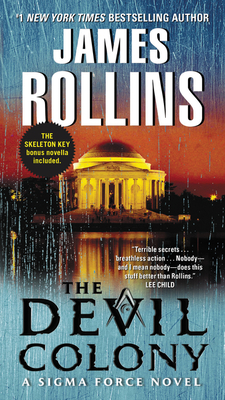 $9.99
Usually Ships in 1-5 Days
Description
---
The gruesome discovery of hundreds of mummified bodies deep in the Rocky Mountains along with strange artifacts inscribed with an unfathomable script stirs controversy and foments unrest. And when a riot at the dig site results in the horrible death of an anthropologist captured by television cameras, the government focuses its attention on an escaped teenage agitator the firebrand niece of Sigma Force director Painter Crowe.
To protect her, Crowe will ignite a war across the nation's most powerful intelligence agencies. But the dark events have set in motion a frightening chain reaction: a geological meltdown that threatens the entire western half of the U.S. And the unearthed truth could topple governments, as Painter Crowe joins forces with Commander Gray Pierce to penetrate the shadowy heart of a sinister cabal that has been manipulating American history since the founding of the thirteen colonies.
About the Author
---
James Rollins is the New York Times bestselling author of thrillers translated into forty languages.
Praise For…
---
"James Rollins delivers one of the best thrillers of the year in The Devil Colony, an amazing amalgam of history, science and adventure."
-Associated Press on The Devil Colony

"Riveting....Rollins gets better with each book, and his position at the top of this particular subgenre remains unshaken."
-Publishers Weekly on The Devil Colony

"Terrible secrets, the sweep of history, an epic canvas, breathless action...nobody—and I mean nobody—does this stuff better than Rollins."
-Lee Child on The Devil Colony

"From the hidden Indian treasure, to the Fort Knox secrets, to the conspiracy at the beginning of the United States The Devil Colony gives you every reason why you'll want to be a member of Sigma Force."
-Brad Meltzer, New York Times bestselling author of The Inner Circle on The Devil Colony

"A first-class, breathtaking adventure that will have readers whizzing through the pages. The only thing wrong with this tale: it has to end."
-Romantic Times (4 1/2 stars) on The Devil Colony