The Fir-Tree (Hardcover)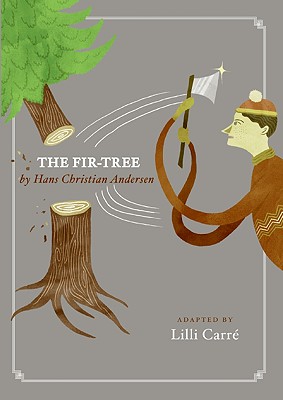 This Book Is Not Sold Online - In Store Special Order Only
Description
---
"The Fir Tree" by Hans Christian Andersen, published originally in 1845, follows the life of a young fir tree living in the woods (of all places). Compared to the other trees around him, he feels small, spindly and short, and he constantly utters complaint to any and all woodland creatures within ear shot. Most pointedly, he wonders "when will he truly be alive?" When he sees humans cut down some beautiful trees nearby and then drag them across the snow, he asks the swallows, "Where are they going?" In answer they tell him of all Christmas's splendor and beauty of which those lucky trees will soon be a part. Yet when the time comes for our little fir tree to have his turn, he's taught an unexpected and irreversible lesson.
No one is better suited to adapt this sweet and sorrowful tale than Lilli Carre. Creator of The Tales of Woodland Pete and The Lagoon, her sensibility will graft beautifully over the antiquated yet quirky tale by the great master Hans Christian Andersen.
About the Author
---
Lilli Carre is an artist and animator living in Chicago. She has created three books, The Lagoon, Tales of Woodsman Pete, and Nine Ways to Disappear. Her work has appeared on the covers and in the pages of The Best American Comics and Mome.

Hans Christian Andersen was a Danish fairy tale writer and poet who is most noted for his Fairy Tales, including the enduring children s stories The Snow Queen, The Little Mermaid, Thumbelina, and The Ugy Duckling. Through his youth Andersen worked as a weaver s apprentice and actor before turning to writing. Andersen s works have been translated into more than 150 languages and have inspired countless films, plays, and ballets. Although Andersen died in 1875, the anniversary of his birthday (June 2) continues to celebrated each year as International Children s Book Day.