The Land of Mango Sunsets (Abridged / Compact Disc)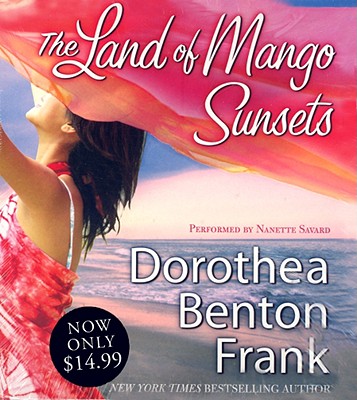 This Book Is Not Sold Online - In Store Special Order Only
Description
---
Dorothea Benton Frank is one of America's most insightful writers weaving highly addictive tales of the conundrums of life with hilarity and heat. Now, in The Land of Mango Sunsets, Frank gives us one woman's journey toward a hard-won truth--that life isn't always what it appears to be, and the sooner you realize that pride won't keep you warm at night, the happier you will be.
Meet Miriam Elizabeth Swanson, in a full-blown snit, buoyed by a fabulous cast who run the gamut from insufferable to wonderful. Miriam spins out from the revolving door of her postured life as a Manhattan quasi socialite while she thirsts, no, starves for recognition. How did she become what she hates the most and what does she endure to realize it? And where are the answers? It takes a few spins, dips and one spectacular fall until Miriam gets her head on straight. Then in a whoosh she's off to the enchanted and mysterious land of Sullivans Island, deep in the Lowcountry of South Carolina.
Told straight from the heart in her vivid, highly entertaining style, The Land of Mango Sunsets just might be Frank's finest work to date. If you plan to listen to this book, don't make plans to do anything else for a while.
About the Author
---
Dorothea Benton Frank is from Sullivan's Island, South Carolina. The New York Times bestselling author of Sullivan s Island, Plantation, Isle of Palms, and Shem Creek divides her time between the New York area and the Lowcountry of South Carolina.

Francine Prose is the critically acclaimed author of nineteen novels, including the National Book Award Finalist "Blue Angel" and "My New American Life". She has written three other novels for young adults: "After", winner of the California Young Reader Medal, an IRA/CBC Young Adults' Choice, and a New York Public Library Book for the Teen Age; "Bullyville", a "PW" Best Book and Book Sense Children's Pick; and her most recent, "Touch". She is also the author of two picture books, "Leopold, the Liar of Leipzig" and "Rhino, Rhino, Sweet Potato". The recipient of numerous grants and honors, including a Guggenheim and a Fulbright, Francine Prose was Director's Fellow at the Center for Scholars and Writers at the New York Public Library. She lives in New York City.