Catastrophe CD: Catastrophe CD (Abridged / Compact Disc, Abridged)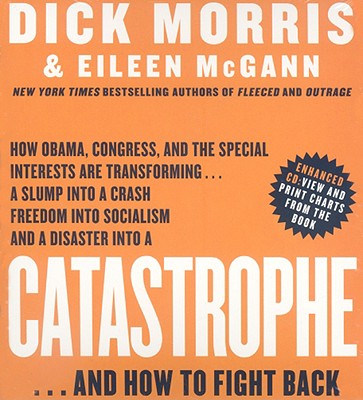 This Book Is Not Sold Online - In Store Special Order Only
Description
---
It's time to take back our country.
Barack Obama and the Democrats are . . .
Canceling the war on terror . . .and replacing it with a war on prosperity. Taking away your health care options. . . And replacing them with government rationing. Taking control of the banks, Detroit, and your money . . .and converting them all into government assets.
We're not just heading for disaster . . .it's already here! Listen to Catastrophe today and find out how to stop it.
Now, in Catastrophe, Dick Morris and Eileen McGann take a hard look at America in freefall—and at now-President Obama, who is already exploiting our distress by transforming a vulnerable America into a socialist state.
"This is no time for apathy or alienation or hopelessness," Morris and McGann remind us. "It's a time for action." And that action must begin now—before it's too late.
About the Author
---
Dick Morris served as Bill Clinton's political consultant for twenty years. A regular political commentator on Fox News, he is the author of ten New York Times bestsellers (all with Eileen McGann) and one Washington Post bestseller.
Eileen McGann is an attorney who, with her husband, Dick, writes columns for the New York Post and for their website, dickmorris.com. She has written extensively about the abuses of Congress and the need for reform.