PLEASE NOTE
Books must show: IN STOCK at your desired location for same day pick-up in stores. We recommend calling stores that show low stock numbers.
The Antelope Wife (Paperback)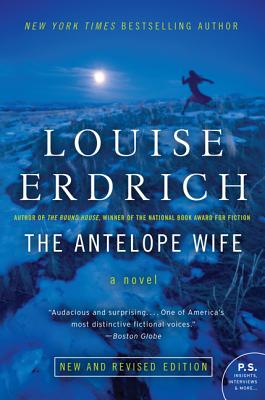 $14.99
In Stock - See Store Locations Below
Description
---
A new and radically revised version of the classic novel the New York Times called "a fiercely imagined tale of love and loss, a story that manages to transform tragedy into comic redemption, sorrow into heroic survival."
When Klaus Shawano abducts Sweetheart Calico and carries her far from her native Montana plains to his Minneapolis home, he cannot begin to imagine what the eventual consequences of his rash act will be. Shawano's mysterious Antelope Woman has stolen his heartand soon proves to be a bewitching agent of chaos whose effect on others is disturbing and irresistible, as she alters the shape of things around her and the shape of things to come.
In this remarkable revised edition of her acclaimed novel, Louise Erdrich weaves an unforgettable tapestry of ancestry, fate, harrowing tragedy, and redemption that seems at once modern and eternal.
About the Author
---
LOUISE ERDRICH lives with her family in Minnesota and is the owner of Birchbark Books, an independent bookstore. Ms. Erdrich is a member of the Turtle Mountain Band of Chippewa, and this series which will, in the end, span one hundred years in the life of an Ojibwe woman was inspired by Ms. Erdrich s own genealogy. Makoons continues the story that started with The Birchbark House, a National Book Award finalist; The Game of Silence, winner of the Scott O Dell Award for Historical Fiction in 2006; the acclaimed The Porcupine Year; and Chickadee, winner of the Scott O Dell Award for Historical Fiction in 2013. Ms. Erdrich is the bestselling author of many critically acclaimed novels for adults as well, including the Pulitzer Prize finalist The Plague of Doves, the National Book Award medalist The Round House and National Book Award finalist The Last Report on the Miracles at Little No Horse. She is also the author of the picture book Grandmother s Pigeon, illustrated by Jim LaMarche. You can visit her online at www.readlouiseerdrich.com and www.birchbarkbooks.com.