PLEASE NOTE
Books must show: IN STOCK at your desired location for same day pick-up in stores. We recommend calling stores that show low stock numbers.
All the Colors of Darkness (Large Print / Paperback)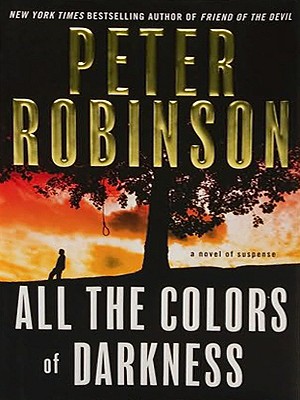 This Book Is Not Sold Online - In Store Special Order Only
February 2009 Indie Next List
---
"Detective Inspectors Alan Banks and Annie Cabbot are back, this time tying to find out how a murder/suicide came about despite being warned off by their superiors."
— George Fox Rishel, The Sly Fox, Virden, IL
Description
---
Detectives Alan Banks and Annie Cabbot return in another electrifying novel from the acclaimed award-winning author of the New York Times bestseller Friend of the Devil
When the body of a man is discovered hanging from a tree in the woods near Eastvale, all signs point toward suicide. At least that's what it initially looks like to Detective Inspector Annie Cabbot.
The man is soon identified as Mark Hardcastle, the set and costume designer for the local amateur theater company. Mark was successful and well liked in the community, but enough remains mysterious about his background that suicide isn't completely out of the question. But when Mark's older and wealthier lover is discovered bludgeoned to death in his home, Annie begins to think differently. Could it have been a crime of passion, or did overwhelming grief lead to a man taking his own life? Increasingly confounded, she calls in the vacationing Chief Inspector Alan Banks even if it means prying him away from his new girlfriend.
Once on the investigation, Banks finds himself plunged into a case where nothing is as it seems. More and more his own words about the victim's latest production, Othello, are coming back to haunt him, for "jealousy, betrayal, envy, ambition, greed, lust, revenge all the colors of darkness" are quickly becoming his world as well.
About the Author
---
Peter Robinson is the author of the Inspector Banks novels, including "Strange Affair," which was chosen as one the best books of 2005 by the "Globe and Mail," the "South Florida Sun-Sentinel" and "January Magazine," and of two non-series suspense novels, "Caedmon's Song" and "No Cure for Love," "Strange Affair" has also been shortlisted for the "LA Times" Book Award for best crime fiction novel. He has also published a collection of short stories called "Not Safe After Dark," His novels have been translated into over sixteen languages, and he has won a number of international awards, including the MWA Edgar, the CWA Dagger in the Library, the Martin Beck Award, from Sweden, the Danish Palle Rosenkrantz Award, and the French Grand Prix de Litterature Policiere. He has also won five Crime Writers of Canada Arthur Ellis Awards.
"From the Hardcover edition."
Praise For…
---
"Robinson shows a deft hand at using forensic science, conflict between characters, and recurring series themes. Another winner from one of Britain's established A-listers."
-Booklist on All the Colors of Darkness

"As much thriller as crime story...solid...Robinson deftly integrates the requisite espionage element with his regular cast. The unexpected cliffhanger will assure readers that this chapter in Banks's life is far from over."
-Publishers Weekly on All the Colors of Darkness

"Best-selling author Robinson branches out into new territory in what may be his best novel yet."
-Library Journal on All the Colors of Darkness

"A well-written, thought-provoking continuation of our relationship with characters who inhabit the same world of darkness, accident, and concern that we all do."
-Cleveland Plain Dealer on All the Colors of Darkness

"Smoothly blends aspects of the spy thriller into what seems to be a murder-suicide....Robinson doesn't miss a beat....All the Colors of Darkness is another example of Robinson's seamless, insightful storytelling."
-South Florida Sun Sentinel on All the Colors of Darkness

"Smart, absorbing detective series....[Robinson's] latest novel about Yorkshire detectives Alan Banks and Annie Cabbot is every bit as captivating as its predecessors....You'll be eagerly awaiting their next adventure."
-Miami Herald on All the Colors of Darkness

"Robinson pulls the reader in from the first page of this tightly plotted story and the vividly drawn characters only enhance the pleasures of this fine novel. All the Colors of Darkness is the 18th mystery in the multiple-award-winning Alan Banks series—and it's one of the best."
-Mystery Scene on All the Colors of Darkness

"Robinson's deft handling of psychological anguish makes this exploration of 'jealousy, betrayal, envy, ambition, greed, lust, revenge—all the colors of darkness' an outstanding addition to this distinguished series."
-The Strand on All the Colors of Darkness

"An intricate thriller."
-Suspense Magazine on All the Colors of Darkness