Prey (Mass Market Paperbound)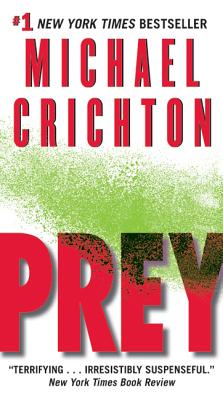 Description
---
In the Nevada desert, an experiment has gone horribly wrong. A cloud of nanoparticles micro-robots has escaped from the laboratory. This cloud is self-sustaining and self-reproducing. It is intelligent and learns from experience. For all practical purposes, it is alive.
It has been programmed as a predator. It is evolving swiftly, becoming more deadly with each passing hour.
Every attempt to destroy it has failed.
And we are the prey.
About the Author
---
MICHAEL CRICHTON has sold over 200 million books, which have been translated into thirty-six languages; thirteen of his books have been made into films. His novels include Next, State of Fear, Timeline, Jurassic Park and The Andromeda Strain. Also known as a filmmaker and the creator of the television show ER, he remains the only writer to have had the number one book, movie and TV show simultaneously. At the time of Crichton s death in 2008, he was well into the writing of Micro; Richard Preston was selected to complete the novel.
Praise For…
---
"TERRIFYING…IRRESISTIBLY SUSPENSEFUL."
-New York Times Book Review

"INTRICATE PLOTTING AND FLAWLESS PACING…you won't be able to put it down."
-Time magazine

"CRACKLING…MYSTERIOUS…."
-Entertainment Weekly

"Just what his fans expect: A WILD, SCARY RIDE…"
-Detroit Free Press

"Another PAGE-TURNING TRIUMPH"
-Charlotte Observer

"INCREDIBLY SCARY and relentless"
-Minneapolis Star Tribune

"PREY WILL KEEP YOU TURNING PAGES"
-Chattanooga Times

"RELENTLESSLY ENTERTAINING"
-Raleigh News & Observer

"… a harrowing tale of nanoparticles gone beserk."
-USA Today

"A TERRIFYING TALE…combining technological verisimilitude with heart-pounding suspense…"
-The Oregonian (Portland)

"Serious and scary…"
-Washington Post Book World

"This is how to write a thriller …Crichton's latest page-turning triumph."
-Detroit Free Press

"Crichton has proved he knows how to ratchet up the fear factor."
-Denver Post

"…so god-awful scary and relentless, it'll knock your head clear of whatever ails you."
-St. Petersburg Times

"Once again, Crichton has proved to be uncannily timely."
-St. Louis Post-Dispatch

"Crichton is a master storyteller."
-Detroit News

"A cross between Jurassic Park and The Andromeda Strain…."
-Columbus Dispatch

"PREY delivers that expected Crichton charge."
-Seattle Post-Intelligencer

"A terrific novelist…He could make most readers lose sleep all night and call in sick the next day."
-San Francisco Chronicle

"Readers turn to Michael Crichton's novels for entertainment with relentless drive."
-San Antonio Express

"Crichton is a doctor of suspense."
-Des Moines Sunday Register

"Crichton writes superbly…the excitment rises with each page."
-Chicago Tribune

"Crichton's books [are]…hugely entertaining."
-New York Times Book Review

"Crichton delivers."
-USA Today

"He is without peer."
-Chattanooga Times

"One of the great storytellers of our age…What an amazing imagination."
-New York Newsday

"Michael Crichton has written some of America's most fantastic novels."
-Milwaukee Journal Sentinel