The Silver Bowl (Paperback)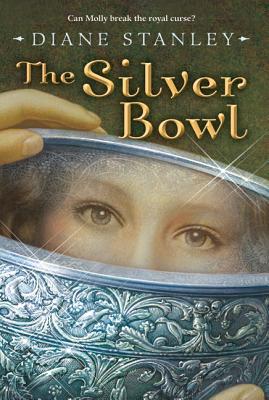 $6.99
Usually Ships in 1-5 Days
Description
---
Unwanted at home, Molly becomes a humble scullery maid for the King of Westria. She arrives at the castle with no education, no manners, and a very disturbing secret: She sees visions that always come true.
In time, Molly begins polishing the castle's fine silver pieces, which include one priceless royal treasure: the king's great ceremonial hand basin. But whenever she touches it, the silver warms beneath her fingers and the bowl's designs swirl into a vision that only she can see. A dreaded curse has befallen each generation of the royal family and now it threatens the handsome Prince Alaric.
Together with her friends Tobias and Winifred, Molly must protect the prince and destroy the curse. Could a less likely champion be found to save the Kingdom of Westria?
About the Author
---
Diane Stanley is the author and illustrator of beloved books for young readers, including The Silver Bowl, which received three starred reviews, was named a best book of the year by Kirkus Reviews and Book Links Lasting Connections, and was an ALA Booklist Editors' Choice; The Cup and the Crown; Saving Sky, winner of the Arab American Museum's Arab American Book Award and a Bank Street College of Education Best Book of the Year; Bella at Midnight, a School Library Journal Best Book of the Year and an ALA Booklist Editors' Choice; The Mysterious Case of the Allbright Academy; The Mysterious Matter of I. M. Fine; and A Time Apart. Well known as the author and illustrator of award-winning picture-book biographies, she is the recipient of the Orbis Pictus Award for Outstanding Nonfiction for Children and the Washington Post-Children's Book Guild Nonfiction Award for her body of work.
Ms. Stanley has also written and illustrated numerous picture books, including three creatively reimagined fairy tales: The Giant and the Beanstalk, Goldie and the Three Bears, and Rumpelstiltskin's Daughter. She lives in Santa Fe, New Mexico.
Praise For…
---
"An accomplished storyteller, Stanley uses her singular gifts to craft a remarkable historical fantasy. Combining carefully chosen details of setting with a richly realized fantasy premise, Stanley succeeds in creating a believable world large enough to accommodate not only menace and evil but also loyalty, enduring friendship, and love."
-Booklist (starred review)

"Veteran Stanley concocts a delicious blend of familiar fairy-tale motifs and intriguing, well-rounded characters to create an engaging fantasy. A most worthy and enjoyable entry in the 'feisty female' fantasy genre."
-Kirkus Reviews (starred review)

"Adventure, magic, subtle romance, betrayal, and monstrous curses take this book far beyond the typical scullery-maid-makes-good tale."
-School Library Journal (starred review)

"A versatile and inventive raconteur, Stanley (Bella at Midnight) nimbly weaves intrigue and fantasy into this richly layered story set in medieval times."
-Publishers Weekly

"[T]he pacing is masterful, with new information and character development doled out in exactly the right doses, intercut with thrilling escapes and clever plots...a satisfying yarn of loyalty rewarded and mutual understanding gained."
-Bulletin of the Center for Children's Books

Praise for Saving Sky:"The main characters are well rendered and likable, and, in her portrayal of the earth-centered, nurturing Brightman family, Stanley succeeds in delivering the message that hope trumps fear."
-School Library Journal

Praise for Saving Sky:"This page-turner skillfully captures the irrational fear of a public under siege while giving kids a modern-day, almost-just-like-them female hero who champions hope. Inspiring."
-Kirkus Reviews

Praise for Bella at Midnight:"Once begun, it will be hard to put down."
-Kirkus Reviews (starred review)

Praise for Bella at Midnight:"More than a reworking of the familiar, this is a 21st-century fairy-tale, throughly enjoyable in its own right."
-School Library Journal (starred review)

Praise for Bella at Midnight:Stanley subtly twists strands of the Cinderella story until it's something quite new and fine."
-Booklist (starred review)

Praise for Bella at Midnight:"Fans of fairy tale retellings will enjoy the fanciful twists in familiar territory, and long remember this engaging heroine, destined for a happily-ever-after life."
-Voice of Youth Advocates (VOYA)