The Red Convertible: Selected and New Stories, 1978-2008 (Hardcover)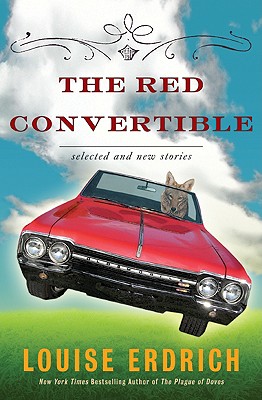 This Book Is Not Sold Online - In Store Special Order Only
Description
---
This unique volume brings together for the first time three decades of short stories by one of the most innovative and exciting writers of our day. A master of the genre, Louise Erdrich has selected these pieces—thirty works that first appeared in magazines as well as six unpublished stories—from among a much larger oeuvre. She has ordered them chronologically but also by theme and voice.
Erdrich is a fearless and inventive writer. In her fictional world, the mystical can emerge from the everyday, the comic turn suddenly tragic, and violence and beauty inhabit a single emotional landscape. Each character in these stories is full of surprises, and the twists and leaps of Erdrich's imagination are made all the more meaningful by the deeper truth of human feeling that underlies them.
In "Saint Marie," the ardent longing that propels a fourteen-year-old Indian girl up the hill to the Sacred Heart Convent and into a life-and-death struggle with the diabolical Sister Leopolda fuels a story of breathtaking power and originality. "Knives" tells of a homely butcher's assistant, a devoted reader of love stories, who falls for a good-looking predator, a traveling salesman, with devastating consequences for each of them. "Le Mooz" evokes the stinging flames of passion in old age—"Margaret had exhausted three husbands, and Nanapush had outlived his six wives"—with unexpected humor that turns suddenly bittersweet at the story's close. A passion for music in "Naked Woman Playing Chopin" proves more powerful than any experience of carnal or spiritual love; indeed, when Agnes DeWitt removes her clothing to enter the music of a particular composer, she sweeps all before her and transcends mortality and time itself.
In The Red Convertible, readers can follow the evolution of narrative styles, the shifts and metamorphoses in Erdrich's fiction, over the past thirty years. These stories, spellbinding in their boldness and beauty, are a stunning literary achievement.
About the Author
---
Louise Erdrich lives with her family in Minnesota and is the owner of Birchbark Books, an independent bookstore. Ms. Erdrich is a member of the Turtle Mountain Band of Chippewa, and this story—which will, in the end, span one hundred years in the life of an Ojibwe woman—was inspired when Ms. Erdrich and her mother, Rita Gourneau Erdrich, were researching their own family history. Chickadee begins a new part of the story that started with The Birchbark House, a National Book Award finalist; The Game of Silence, winner of the Scott O'Dell Award for Historical Fiction; and the acclaimed The Porcupine Year.
Ms. Erdrich is also the bestselling author of many critically acclaimed novels for adults, including the Pulitzer Prize finalist The Plague of Doves and National Book Award finalist The Last Report on the Miracles at Little No Horse. She is also the author of the picture book Grandmother's Pigeon, illustrated by Jim LaMarche.
Praise For…
---
"A wondrous short story writer…A master tuner of the taut emotions that keen between parent and child, man and woman, brother and sister, man and beast."
-New York Times Book Review

"Erdrich is one of our major writers...and this volume is a good demonstration of her compelling stylistic innovations, not to mention her literary cunning."
-Washington Post Book World

"Erdrich's stories don't grow old. They grow more astonishing for how fresh they still feel. . . . You only have to read the first story . . . to get a whiff of authorial wizardry."
-Chicago Tribune

"These tales, like the shining car in the title story, have a velocity all their own."
-O magazine

"Louise Erdrich is an immensely satisfying storyteller... She finds grace in action, using the gentlest of language."
-Los Angeles Times

"Erdrich can sketch a novel's worth of character and incident in just a few pages."
-Entertainment Weekly

"Compiled from 30 years of work, spanning an enormous variety of registers . . . The Red Convertible reveals Erdrich to be one of America's finest writers of short fiction."
-Dallas Morning News

"Erdrich's characters are unforgettable... Grade: A."
-Rocky Mountain News

"A collection of brave and inventive stories..."
-Ms. magazine