Gone (Library Binding)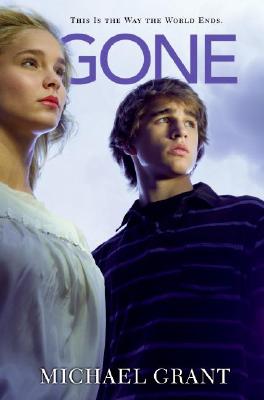 This Book Is Not Sold Online - In Store Special Order Only
Description
---
In the blink of an eye. Everyone disappears. GONE.
Except for the young. Teens. Middle schoolers. Toddlers. But not one single adult. No teachers, no cops, no doctors, no parents. Just as suddenly, there are no phones, no internet, no television. No way to get help. And no way to figure out what's happened.
Hunger threatens. Bullies rule. A sinister creature lurks. Animals are mutating. And the teens themselves are changing, developing new talents—unimaginable, dangerous, deadly powers—that grow stronger by the day.
It's a terrifying new world. Sides are being chosen, a fight is shaping up. Townies against rich kids. Bullies against the weak. Powerful against powerless. And time is running out: On your birthday, you disappear just like everyone else...
About the Author
---
Michael Grant is nothing like Mack MacAvoy. He travels all over the globe, he has a bit of a sarcastic streak, and he secretly suffers from belonephobia, a fear of needles. Seriously: Do not invite him to a sewing bee. Or a tattoo parlor. Okay, fine, maybe he's a little like Mack MacAvoy.
Michael is the New York Times bestselling author of the Gone series and has written a total of 150 books (yes, you read that right: one hundred and fifty). He wrote most of his books with his wife, Katherine Applegate (K.A.), but the action-packed thrillers in the Gone series are all his. As is his newest series, the Magnificent Twelve, in which he delves into his inner (or, some might say, not so inner) child to create Mack, the unlikeliest of heroes.
When Michael isn't busy writing, he likes to travel, stare blankly at the TV, waste hours clicking aimlessly around the internet, listen to rock music and sing along in a nasal voice, complain, and go out to eat.
Praise For…
---
"Extraordinarily skillful pacing, which leaves the reader constantly on the verge of a new discovery."
-KLIATT

"A tour de force that will leave readers dazed, disturbed, and utterly breathless."
-Booklist (starred review)

"If Stephen King had written Lord of the Flies, it might have been a a little like this novel."
-Voice of Youth Advocates (VOYA) (Starred Review)