PLEASE NOTE
Books must show: IN STOCK at your desired location for same day pick-up in stores. We recommend calling stores that show low stock numbers.
97 Orchard: An Edible History of Five Immigrant Families in One New York Tenement (Paperback)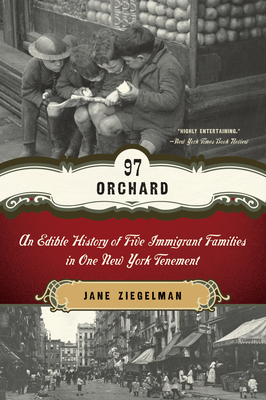 $14.99
Usually Ships in 1-5 Days
Description
---
In 97 Orchard, Jane Ziegelman explores the culinary life that was the heart and soul of New York's Lower East Side around the turn of the twentieth centurya city within a city, where Germans, Irish, Italians, and Eastern European Jews attempted to forge a new life. Through the experiences of five families, all of them residents of 97 Orchard Street, Ziegelman takes readers on a vivid and unforgettable tour, from impossibly cramped tenement apartments, down dimly lit stairwells, beyond the front stoops where housewives congregated, and out into the hubbub of the dirty, teeming streets. Ziegelman shows how immigrant cooks brought their ingenuity to the daily task of feeding their families, preserving traditions from home but always ready to improvise. 97 Orchard lays bare the roots of our collective culinary heritage.
About the Author
---
Jane Ziegelman is the director of the Tenement Museum's culinary center and the founder and director of Kids Cook!, a multiethnic cooking program for children. Her writing on food has appeared in numerous publications, and she is the coauthor of Foie Gras: A Passion. She lives in Brooklyn, New York.