The Ramona Collection, Volume 2: Ramona and Her Mother; Ramona Quimby, Age 8; Ramona Forever; Ramona's World (Paperback)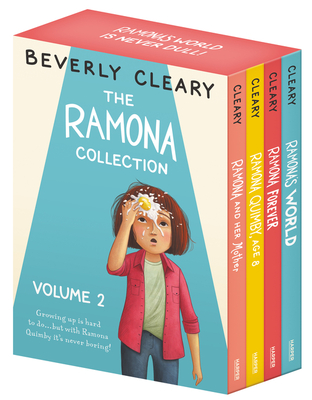 $22.99
Usually Ships in 1-5 Days
Description
---
Ramona and Her Father
Ramona's father has lost his job, and there's a grumpy mood in the Quimby household. Ramona just wants everyone to get along, but it's hard when her mother is worried all the time, her father is grouchy, and Beezus is just ... Beezus.
Ramona and Her Mother
Ramona always tries to do the right thing ... so why does everything turn out so wrong? At seven and a half years old (for now), she's worried about spelling and about Willa Jean getting all the attention. Most of all, she's worried that her mother may not love her anymore.
Ramona Forever
It is a time of change for Ramona and her family. Aunt Beatrice is getting married, Ramona's father is looking for a new teaching job, and Ramona's mother suddenly seems a little thicker around the middle. Amid all the chaos, Ramona must say good-bye to one family member and hello to a new one.
Ramona's World
Ramona can't wait for school to start -- she's sure fourth grade will be the best year of her life. With a new baby sister, a new best friend, Daisy, and some glorious new calluses on her hands from the rings in the park, Ramona is on top of the world.
About the Author
---
Beverly Cleary is one of America's most beloved authors. As a child, she struggled with reading and writing. But by third grade, after spending much time in her public library in Portland, Oregon, she found her skills had greatly improved. Before long, her school librarian was saying that she should write children's books when she grew up.
Instead she became a librarian. When a young boy asked her, "Where are the books about kids like us?" she remembered her teacher's encouragement and was inspired to write the books she'd longed to read but couldn't find when she was younger. She based her funny stories on her own neighborhood experiences and the sort of children she knew. And so, the Klickitat Street gang was born!
Mrs. Cleary's books have earned her many prestigious awards, including the American Library Association's Laura Ingalls Wilder Award, presented to her in recognition of her lasting contribution to children's literature. Dear Mr. Henshaw won the Newbery Medal, and Ramona Quimby, Age 8 and Ramona and Her Father have been named Newbery Honor Books. Her characters, including Beezus and Ramona Quimby, Henry Huggins, and Ralph, the motorcycle-riding mouse, have delighted children for generations.
Tracy Dockray illustrated Am I Big or Little? by Margaret Bridges and Hear That? by Tama Janowitz. She lives in New York City.
This is Vaughn Michaels's first book.
Jacqueline Rogers has illustrated many books for children.