And Only to Deceive (Paperback)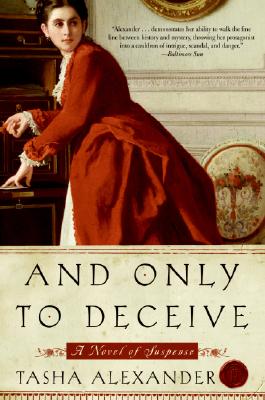 $13.99
Usually Ships in 1-5 Days
Description
---
FromNew York Times bestselling author Tasha Alexander, a stunning novel of historical suspense set in Victorian England, meticulously researched and with a twisty plot that involves stolen antiquities, betrayal, and murder
For Emily, accepting the proposal of Philip, the Viscount Ashton, was an easy way to escape her overbearing mother, who was set on a grand society match. So when Emily's dashing husband died on safari soon after their wedding, she felt little grief. After all, she barely knew him. Now, nearly two years later, she discovers that Philip was a far different man from the one she had married so cavalierly. His journals reveal him to have been a gentleman scholar and antiquities collector who, to her surprise, was deeply in love with his wife. Emily becomes fascinated with this new image of her dead husband and immerses herself in all things ancient and begins to study Greek.
Emily's intellectual pursuits and her desire to learn more about Philip take her to the quiet corridors of the British Museum, one of her husband's favorite places. There, amid priceless ancient statues, she uncovers a dark, dangerous secret involving stolen artifacts from the Greco-Roman galleries. To complicate matters, she's juggling two prominent and wealthy suitors, one of whose intentions may go beyond the marrying kind. As she sets out to solve the crime, her search leads to more surprises about Philip and causes her to question the role in Victorian society to which she, as a woman, is relegated.
About the Author
---
Tasha Alexander is the author of the Lady Emily novels, a series of historical suspense, including "Tears of Pearl" and "Dangerous to Know". She attended the University of Notre Dame, where she signed on as an English major in order to have a legitimate excuse for spending all her time reading. She and her husband, novelist Andrew Grant, divide their time between Chicago and the UK.
Praise For…
---
"Had Jane Austen written The Da Vinci Code, she may well have come up with this elegant novel."
-Martha O'Connor, author of The Bitch Posse

"Charming."
-Publishers Weekly

"An admirable and literate debut novel."
-Nashville Tennessean

"An entertaining debut."
-Nashville Scene

"Engagingly suspenseful and rich with period detail."
-BookPage

"The who-done-it is well designed and fun to follow. Tasha Alexander's historical mystery is terrific."
-I LOVE A MYSTERY newsletter

"Fans of Anne Perry and Elizabeth Peters will welcome this debut novel."
-Denver Post

"The story spans genres, appealing to lovers of suspense, history and romance...historically correct and beautifully done."
-South Bend Tribune