PLEASE NOTE
Books must show: IN STOCK at your desired location for same day pick-up in stores. We recommend calling stores that show low stock numbers.
Black Order CD: Black Order CD (Compact Disc)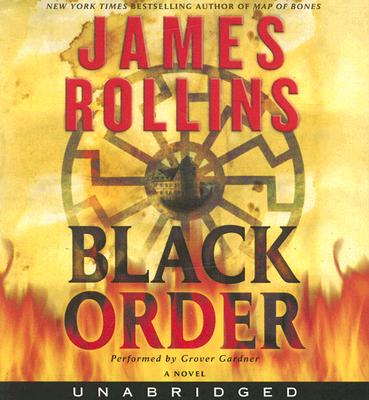 This Book Is Not Sold Online - In Store Special Order Only
Description
---
A sinister fire in a Copenhagen bookstore ignites a relentless hunt across four continents. Arson and murder reveal an insidious plot to steal a Bible that once belonged to Charles Darwin. And Commander Gray Pierce dives headlong into a mystery that dates back to Nazi Germany...and to horrific experiments performed in a now-abandoned laboratory in Poland.
A continent away, madness ravages a remote monastery in Nepal, as Buddhist monks turn to cannibalism and torture. Lisa Cummings, an American doctor investigating the atrocity, is suddenly a target of a brutal assassin. And Lisa's only ally is Painter Crowe, director of SIGMA Force, who already shows signs of the baffling malady.
Now it is up to Gray Pierce to save them both as SIGMA Force races to expose a century-old plot that threatens to destroy the current world order . . . and alter the destiny of humankind forever.
About the Author
---
James Rollins is the New York Times bestseller of thrillers translated into forty languages. His Sigma series has been lauded as one of the "top crowd pleasers" (New York Times) and one of the "hottest summer reads" (People Magazine). Acclaimed for his originality, Rollins unveils unseen worlds, scientific breakthroughs, and historical secrets—and he does it all at breakneck speed.
Rebecca Cantrell's Hannah Vogel mystery novels have won the Bruce Alexander and Macavity awards and been nominated for the Barry and Romantic Times Reviewers Choice awards; her critically-acclaimed novel, iDrakula, was nominated for the APPY award and listed on Booklist's Top 10 Horror Fiction for Youth. She and her husband and son just left Hawaii's sunny shores for adventures in Berlin.