The Bitch in the House: 26 Women Tell the Truth about Sex, Solitude, Work, Motherhood, and Marriage (Paperback)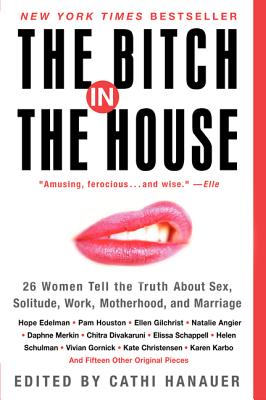 $13.99
Usually Ships in 1-5 Days
Description
---
Virginia Woolf introduced us to the Angel in the House, now prepare to meet... The Bitch In the House.
Women today have more choices than at any time in history, yet many smart, ambitious, contemporary women are finding themselves angry, dissatisfied, stressed out. Why are they dissatisfied? And what do they really want? These questions form the premise of this passionate, provocative, funny, searingly honest collection of original essays in which twenty-six women writersranging in age from twenty-four to sixty-five, single and childless or married with children or four times divorcedinvite readers into their lives, minds, and bedrooms to talk about the choices theyve made, whats working, and whats not.
With wit and humor, in prose as poetic and powerful as it is blunt and dead-on, these intriguing women offer details of their lives that theyve never publicly revealed before, candidly sounding off on:
The difficult decisions and compromises of living with lovers, marrying, staying single and having children
The perpetual tug of war between love and work, family and career
The struggle to simultaneously care for ailing parents and a young family
The myth of co-parenting
Dealing with helpless mates and needy toddlers
The constrictions of traditional womens roles as well as the cliches of feminism
Anger at laid-back live-in lovers content to live off a hardworking womans checkbook
Anger at being criticized for ones weight
Anger directed at their mothers, right and wrong
Andwellmore anger...
This book was born out of anger, begins Cathi Hanauer, but the end result is an intimate sharing of experience that will move, amuse, and enlighten. The Bitch in the House is a perfect companion for your students as they plot a course through the many voices of modern feminism. This is the sound of the collective voice of successful women today-in all their anger, grace, and glory.
From The Bitch In the House:
I believed myself to be a feminist, and I vowed never to fall into the same trap of domestic boredom and servitude that I saw my mother as being fully entrenched in; never to settle for a life that was, as I saw it, lacking independence, authority, and respect. E.S. Maduro, page 5
Here are a few things people have said about me at the office: Youre unflappable. Are you ever in a bad mood? Here are things peopleokay, the members of my familyhave said about me at home: Mommy is always grumpy. Why are you so tense? Youre too mean to live in this house and I want you to go back to work for the rest of your life! Kristin van Ogtrop, page 161
I didnt want to be a bad mother I wanted to be my mother-safe, protective, rational, calm-without giving up all my anger, because my anger fueled me. Elissa Schappell, page 195
About the Author
---
Cathi Hanauer, the author of the novel My Sister's Bones, has written articles, essays, reviews, and fiction for Elle, Mirabella, Self, Glamour, Mademoiselle, and many other magazines. She has been the monthly books columnist for both Glamour and Mademoiselle, and was the relationship-advice columnist for Seventeen for seven years. She lives in western Massachusetts with her husband, writer Daniel Jones, and their daughter and son.
Praise For…
---
"The writing is superb: smart, sassy and honest–oh, are they honest...in this must–read for every woman."
-Booklist

"What a book, for men and women both. There is no bitterness here, only the eloquence of honesty."
-Elizabeth Strout, author of Amy and Isabelle

"THE BITCH IN THE HOUSE is… smart, funny, wise, honest, and very probably…the story of your life."
-Cynthia Kaplan, author of Why I'm Like This

"I devoured these essays, and took great guilty pleasure in trespassing into these private lives."
-Elinor Lipman, author of The Dearly Departed and The Inn at Lake Devine

"…This essay anthology will offer comfort to real women living real lives"
-Library Journal

"A rollicking, free-flowing, double-barreled think piece."
-Hartford Courant

"Starkly revealing …Here is unvarnished truth and more than a smidgen of anger about marriage, motherhood, solitude, and sex."
-Seattle Post-Intelligencer

"The writing is superb: smart, sassy and honest-oh, are they honest-in this must-read for every woman."
-Booklist

"The great thing about The Bitch in the House is knowing how many of us there are out there."
-O magazine