Tales of Burning Love (Paperback)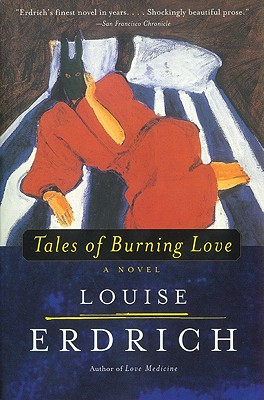 This Book Is Not Sold Online - In Store Special Order Only
Description
---
In her boldest and most darkly humorous novel yet, award-winning, critically acclaimed and bestselling novelist Louise Erdrich tells the intimate and powerful stories of five Great Plains women whose lives are connected through one man.
Stranded in a North Dakota blizzard, Jack Mauser's former wives huddle for warmth and pass the endless night by remembering the stories of how each came to love, marry and ultimately move beyond Jack. At times painful, at times heartbreaking and often times comic, their tales become the adhesive that holds them together in their love for Jack and in their lives as women.
Erdrich, with her characteristic powers of observation and luminescent prose, brings these women's unforgettable stories to life with astonishing candor and warmth. Filled with keen perceptions about the apparatus for survival, the force of passion and the necessity of hope, Tales of Burning Love is a tour de force from one of the most formidable American writers at work today.
About the Author
---
Louise Erdrich lives with her family in Minnesota and is the owner of Birchbark Books, an independent bookstore. Ms. Erdrich is a member of the Turtle Mountain Band of Chippewa, and this story—which will, in the end, span one hundred years in the life of an Ojibwe woman—was inspired when Ms. Erdrich and her mother, Rita Gourneau Erdrich, were researching their own family history. Chickadee begins a new part of the story that started with The Birchbark House, a National Book Award finalist; The Game of Silence, winner of the Scott O'Dell Award for Historical Fiction; and the acclaimed The Porcupine Year.
Ms. Erdrich is also the bestselling author of many critically acclaimed novels for adults, including the Pulitzer Prize finalist The Plague of Doves and National Book Award finalist The Last Report on the Miracles at Little No Horse. She is also the author of the picture book Grandmother's Pigeon, illustrated by Jim LaMarche.