The Hot Kid (Large Print / Paperback)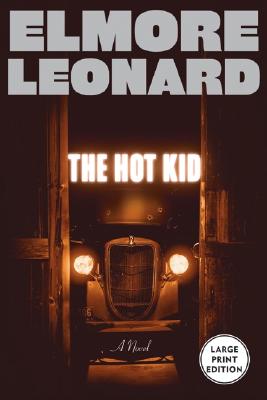 This Book Is Not Sold Online - In Store Special Order Only
Description
---
Carl Webster, the hot kid of the marshals service, works out of the Tulsa, Oklahoma, federal courthouse during the 1930s.
Louly Brown loves Carl but wants the world to think she is Pretty Boy Floyd's girlfriend.
Tony Antonelli of True Detective magazine wants to write like Richard Harding Davis and wishes cute little Elodie wasn't a whore.
Jack Belmont wants to rob banks and become public enemy number one.
With tommy guns, hot cars, speakeasies, cops and robbers, and a former lawman who believes in vigilante justice, all played out against the flapper period of gun molls and Prohibition, The Hot Kid is Elmore Leonard -- a true master -- at his best.
About the Author
---
Elmore Leonard wrote more than forty books during his long career, including the bestsellers Raylan, Tishomingo Blues, Be Cool, Get Shorty, and Rum Punch, as well as the acclaimed collection When the Women Come Out to Dance, which was a New York Times Notable Book. Many of his books have been made into movies, including Get Shorty and Out of Sight. The short story "Fire in the Hole," and three books, including Raylan, were the basis for the FX hit show Justified. Leonard received the Lifetime Achievement Award from PEN USA and the Grand Master Award from the Mystery Writers of America. He died in 2013.
Praise For…
---
"This is a novel that... is all about style, literary and otherwise."
-New York Times Book Review

"THE HOT KID brims with the sly humor, sparse prose and razor dialogue we expect from the master"
-Los Angeles Times Book Review

"The writing is pitch-perfect throughout...it's all pure Leonard, and that means it's pure terrific."
-Publishers Weekly (starred review)

Clear, fast-paced and masterfully structured."
-Philadelphia Inquirer

"The HOT KID is Elmore Leonard- a master- at his best."
-Oklahoma City Oklahoman

"...expertly crafted, deftly balanced."
-Houston Chronicle

"...Rips along like a bandit's getaway car...THE HOT KID is Leonard at his best."
-Tulsa World

"...delivers the goods in a top-notch amalgam of sagebrush western and mob drama."
-Lexington Herald-Leader

"There's nothing Elmore Leonard doesn't know about stylish writing, and THE HOT KID is him at his compressed best."
-Detroit Free Press

"Wonderfully funny and hair-raising...THE HOT KID is splendid."
-Providence Sunday Journal

"Elmore Leonard unspools the definitive portrait of 1930s lowlife"
-Boston Sunday Globe (Stephen King)

Praise for MR.PARADISE:"The dialogue and the characters crackle ...MR. PARADISE is a perfect crime caper from a master."
-Detroit Free Press

"Smart writing about dumb crooks."
-Atlanta Journal-Constitution

"His 40th crime novel—and he just keeps getting better and better. "
-Deseret News