PLEASE NOTE
Books must show: IN STOCK at your desired location for same day pick-up in stores. We recommend calling stores that show low stock numbers.
Zorro Spa: Una Novela (Paperback)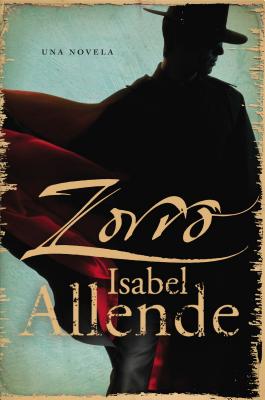 $14.99
Usually Ships in 1-5 Days
Description
---
Quien no conoce al Zorro, el astuto y travieso enmascarado? Lo que no sabiamos -- de como surgio el heroe -- se resuelve en estas paginas, que nos revelan el misterio de su doble personalidad. Aqui reencontramos a su amigo Bernardo, su corcel, Tornado, su prodigioso latigo, la Z con que firma sus hazanas y mucho mas.
Nacido en 1795 en la California hispana, Diego de la Vega esta atrapado entre dos mundos. Su padre es un heroico militar convertido en un prospero hacendado, su madre es una valiente guerrera indigena y su abuela materna es la sabia chaman de su tribu. Del primero, Diego aprende las virtudes de un hidalgo, desde esgrima hasta el arte de hacerse obedecer, mientras su madre y su abuela lo inician en las tradiciones indigenas y el conocimiento de la naturaleza y la magia. Junto a su inseparable amigo Bernardo, vive aventuras en la ninez y se da cuenta de las injusticias que soportan los indios a mano de los colonos europeos.
Diego se hace hombre en Barcelona, donde su padre lo manda a estudiar justamente cuando Espana, ocupada por las tropas de Napoleon, soporta una cruenta guerra. Le toca de todo, desde duelos a muerte hasta enamorarse a primera vista, enrolarse en una sociedad secreta, huir con una tribu de gitanos, ser secuestrado por piratas y, sobre todo, enfrentarse al hombre que habra de ser su peor enemigo. Por ultimo regresa a California a reclamar la hacienda donde nacio e impartir justicia, luchando por los indefensos. Asi, entre el Viejo y el Nuevo Mundo se forma el caracter del mas legendario y romantico de los heroes.
About the Author
---
Born in Peru and raised in Chile, Isabel Allende is the author of a number of bestselling and critically acclaimed books, including "The House of the Spirits", "Eva Luna, Stories of Eva Luna, ""Of Love and Shadows, "and "Paula". Her latest novel is "The Japanese Lover". Her books have been translated into more than thirty-five languages and have sold more than 65 million copies worldwide. She lives in California. Her website is IsabelAllende.com.
Praise For…
---
"This is a full-blooded retelling of the old masked-man legend, and it crackles with action."
-Fort Worth Star-Telegram

"A tale of adventure, history and romance, just in time for long reads on summer afternoons."
-Austin American-Statesman

"Lively and fascinating."
-Chicago Tribune

"Allende is a beguiling storyteller, and Zorro provides a rich palate for her customary embellishments."
-Library Journal

"Equal parts adventure, historical novel and family saga, Zorro is a moving portrait of a hero who is heartbreakingly human."
-People

"One of those rare and perfect matches of subject and author... Sinfully entertaining ... Serious fiction."
-Houston Chronicle

"Allende's discreetly subversive talent really shows . . . You turn the pages, cheering on the masked man."
-Los Angeles Times

"Zorro is great fun . . . A thrilling journey into a world in which cultures clash as often as swords."
-Miami Herald

"Wonderfully crafted . . . Allende gives Zorro the feel of a folk or fairy tale."
-USA Today