The Volumetrics Eating Plan: Techniques and Recipes for Feeling Full on Fewer Calories (Paperback)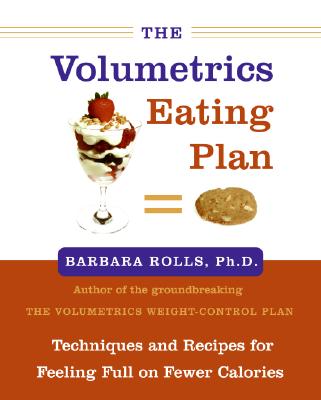 $18.99
Usually Ships in 1-5 Days
Description
---
From Dr. Barbara Rolls, one of America's leading authorities on weight management, comes a much-anticipated lifestyle guide and cookbook that empowers and encourages her readers to quit "dieting" for good, to feel full on fewer calories, and to lose weight and keep it off while eating satisfying portions of delicious, nutritious foods.
The Volumetrics Eating Plan doesn't eliminate food groups or overload you with rules. It's a commonsense approach to eating based on Dr. Rolls's hugely popular Volumetrics Weight-Control Plan and her respected research on satiety that shows you how to choose foods that control hunger while losing weight. Along with menu planners, charts, and sidebars on healthy food choices, the 125 recipes put her revolutionary research into real and tangible instructions for every meal. The full-color photographs make these delicious recipes irresistible.
With this important new guide to healthy eating and living, everyone can enjoy tasty and satisfying meals that will help them maintain their weight or lose those extra pounds while learning the pleasures of cooking the Volumetrics way.
Volumetrics, Dr. Rolls's rigorously tested and proven system for weight management, incorporates sound research findings from around the world into a nutritious plan and shows you how to personalize it to suit your preferences and goals. It's all about choices, and The Volumetrics Eating Plan helps you choose the right foods for every meal and every lifestyle, without giving up flavor or diversity in your diet. No more "forbidden foods" or monotonous meals -- The Volumetrics Eating Plan will revolutionize the way you think about managing your weight and will guide you to a lifetime of healthy food choices.
About the Author
---
Barbara Rolls, Ph.D., is professor of nutritional sciences and the Helen A. Guthrie Chair of Nutritional Sciences at Pennsylvania State University, where she heads the Laboratory for the Study of Human Ingestive Behavior. A veteran nutrition researcher and past president of both the Society for the Study of Ingestive Behavior and the Obesity Society, Dr. Rolls has been honored throughout her career with numerous awards, including Fellow of the American Association for the Advancement of Science and honorary membership in the American Dietetic Association. In 2010 she received the Obesity Society's highest honor, the George A. Bray Founders Award, and was elected to the American Society for Nutrition's Fellows Class of 2011. She is the author of more than 250 research articles and six books, including The Volumetrics Weight Control Plan and The Volumetrics Eating Plan. She lives in State College, Pennsylvania.
Mindy Hermann, R.D., is a writer who specializes in collaborative projects on cooking, food, and nutrition with researchers, health professionals, and chefs. The Ultimate Volumetrics Diet is her tenth book. She lives in Mount Kisco, New York.
Praise For…
---
"With its emphasis on . . . 'high-volume, low-calorie foods, the Volumetrics Diet promises you'll lose weight without starving. . . . Experts love its emphasis on whole foods and veggies and dieters love it for the wide range of fiber-packed recipes that keep you full for hours."
-Shape Magazine -- Winner, Best Low-Calorie Diet

"Backed by the best research."
-USA Today

"The [consumer products rating guide] gave its highest honors to the 'Volumetrics Eating Plan' diet."
-New York Post

"Volumetrics could be the most popular and effective diet you have never heard of."
-Newsweek