Becoming a Man: Half a Life Story (Paperback)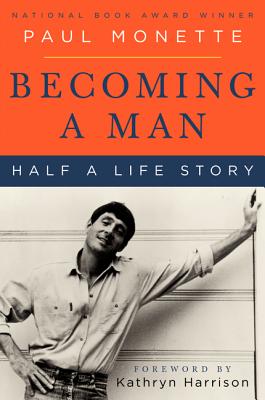 Description
---
A child of the 1950s from a small New England town, "perfect Paul" earns straight A's and shines in social and literary pursuits, all the while keeping a secret from himself and the rest of the world. Struggling to be, or at least to imitate, a straight man, through Ivy League halls of privilege and bohemian travels abroad, loveless intimacy and unrequited passion, Paul Monette was haunted, and finally saved, by a dream of "the thing I'd never even seen: two men in love and laughing."
Searingly honest, witty, and humane, Becoming a Man is the definitive coming-out story in the classic coming-of-age genre.
About the Author
---
Paul Monette (1945 1995) was an author, poet, and gay rights activist. Born in Massachusetts and educated at Yale University, he moved with his partner Roger Horwitz to Los Angeles in 1978 and became involved in the gay rights movement. Monette s writing captures the sense of heartbreak and loss at the center of the AIDS crisis. His first novel, "Taking Care of Mrs. Carroll", was published in 1978, and he went on to write several more works of fiction, poetry, and memoir. "Borrowed Time: An AIDS Memoir", the tender account of his partner s battle with the disease, earned him both PEN Center West and Lambda literary awards. In 1992, Monette won the National Book Award in Nonfiction for "Becoming a Man: Half a Life Story", an autobiography detailing his early life and his struggle with his sexuality. Written as a classic coming-of-age story, "Becoming a Man" became a seminal coming-out story. In 1995, Monette founded the Monette-Horwitz Trust, which honors individuals and organizations working to combat homophobia. Monette died in his home in West Hollywood in 1995 of complications from AIDS.
Praise For…
---
"Everyone can learn something about courage and self-discovery from Becoming a Man."
-San Francisco Chronicle

"One of the most complex, moral, personal, and political books to have been written about gay life."
-L. A. Weekly

"Beautifully written…a heartfelt illumination of how a gay person overcame the self-reproach that societal condemnation enacts."
-Publishers Weekly

"A poignant, bittersweet memoir….Each stage of [Monette's] personal journey is described at an intimate, insightful, human level."
-Library Journal

"Monette's interior life, his ghosts, his turmoil, his final peace -- in Becoming a Man, they have become our literature."
---David Ebershoff, author of Pasadena and The Danish Girl