PLEASE NOTE
Books must show: IN STOCK at your desired location for same day pick-up in stores. We recommend calling stores that show low stock numbers.
The Gift of Change: Spiritual Guidance for a Radically New Life (Hardcover)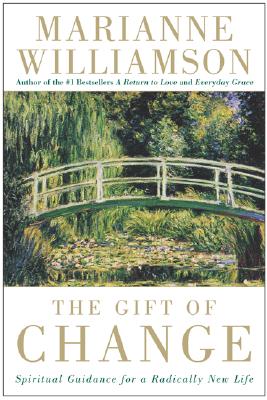 This Book Is Not Sold Online - In Store Special Order Only
Description
---
"The only way to gain power in a world that is moving too fast is to learn to slow down. And the only way to spread one's influence wide is to learn to go deep. The world we want for ourselves and our children will not emerge from electronic speed but rather from a spiritual stillness that takes root in our souls. Then, and only then, will we create a world that reflects the heart instead of shattering it." --from the Introduction
In this honest and uplifting book, bestselling author Marianne Williamson delves deeply into the powerful role of change in our lives today. Far from being something to fear and avoid, she says, every change -- even the most difficult and painful -- gives us an opportunity to receive the miraculous gift of personal transformation. The only real failure in life, she observes, is the failure to grow from what we go through. We will find real growth when we reorient ourselves using an eternal compass of spiritual principles, which alone can guide us on this path to wholeness.
By fixing our eyes on the things that don't change, Williamson leads us across ten key bridges of transformation: From Forgetting Who We Are to Remembering Who We AreFrom Negative Thinking to Positive LoveFrom Anxiety to AtonementFrom Asking God to Change the World to Praying That He Change UsFrom Living in the Past and Future to Living in the PresentFrom Focus on Guilt to Focus on InnocenceFrom Separation to RelationshipFrom Spiritual Death to RebirthFrom Your Plan to God's PlanFrom Who We Were to Who We Are Becoming
These ten simple but profound changes empower us to see life's transitions as opportunities for growth and rebirth, providing not only keys for shaping our lives today, but also hope for transforming our world into a place of greater love and peace.
Praise For…
---
"[Williamson's] voice is strong medicine for our woundedness, warmth, insistence, good humor, and a little light to see by."
-Anne Lamott, author of Traveling Mercies

"Williamson takes her readers seriously enough to ask serious attention of them and to offer them much in return."
-Harold Kushner, author of When Bad Things Happen to Good People

"Williamson challenges us to live in the present moment . that it can be a portal to the miraculous."
-Spirituality and Health magazine

"[From] one of our most profound teachers of transformational wisdom, this book is truly a gift to the world."
-Wayne W. Dyer, author of The Power of Intention

"Marianne Williamson challenges us to dive beneath the slick surface of our everyday life to encounter-and embrace-what frightens us most."
-Body & Soul

"Never has a society needed this wisdom and guidance more than now."
-Caroline Myss, author of Sacred Contracts and Anatomy of the Spirit