Chickadee (Paperback)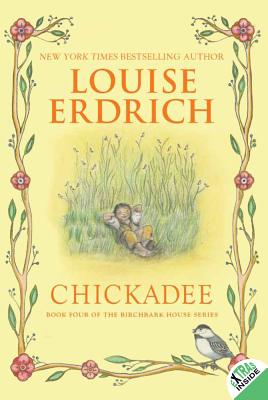 Description
---
Winner of the Scott O'Dell Award for Historical Fiction, Chickadee is the first novel of a new arc in the critically acclaimed Birchbark House series by New York Times bestselling author Louise Erdrich.
Twin brothers Chickadee and Makoons have done everything together since they were born until the unthinkable happens and the brothers are separated.
Desperate to reunite, both Chickadee and his family must travel across new territories, forge unlikely friendships, and experience both unexpected moments of unbearable heartache as well as pure happiness. And through it all, Chickadee has the strength of his namesake, the chickadee, to carry him on.
Chickadee continues the story of one Ojibwe family's journey through one hundred years in America. School Library Journal, in a starred review, proclaimed, "Readers will be more than happy to welcome little Chickadee into their hearts."
The paperback edition includes additional material, such as an interview with the author and activities.
About the Author
---
LOUISE ERDRICH lives with her family in Minnesota and is the owner of Birchbark Books, an independent bookstore. Ms. Erdrich is a member of the Turtle Mountain Band of Chippewa, and this series which will, in the end, span one hundred years in the life of an Ojibwe woman was inspired by Ms. Erdrich s own genealogy. Makoons continues the story that started with The Birchbark House, a National Book Award finalist; The Game of Silence, winner of the Scott O Dell Award for Historical Fiction in 2006; the acclaimed The Porcupine Year; and Chickadee, winner of the Scott O Dell Award for Historical Fiction in 2013. Ms. Erdrich is the bestselling author of many critically acclaimed novels for adults as well, including the Pulitzer Prize finalist The Plague of Doves, the National Book Award medalist The Round House and National Book Award finalist The Last Report on the Miracles at Little No Horse. She is also the author of the picture book Grandmother s Pigeon, illustrated by Jim LaMarche. You can visit her online at www.readlouiseerdrich.com and www.birchbarkbooks.com.