Submitted by
NYMBC
on Mon, 12/08/2014 - 3:04pm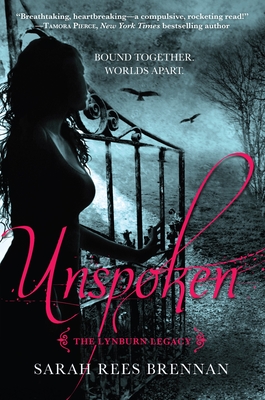 Unspoken by Sarah Rees Brennan
Publication Date: September 10th, 2013
Publisher: Ember
Genre: Fantasy/Paranormal
Kami Glass is in love with someone she's never met—a boy she's talked to in her head since she was born. This has made her an outsider in the sleepy English town of Sorry-in-the-Vale, but she has learned ways to turn that to her advantage. Her life seems to be in order, until disturbing events begin to occur. There has been screaming in the woods and the manor overlooking the town has lit up for the first time in 10 years. . . . The Lynburn family, who ruled the town a generation ago and who all left without warning, have returned. Now Kami can see that the town she has known and loved all her life is hiding a multitude of secrets—and a murderer. The key to it all just might be the boy in her head. The boy she thought was imaginary is real, and definitely and deliciously dangerous.
This book--this book!! I cannot even begin to properly describe my love for this book.
All her life Kami has had a voice in her head - she calls it her imaginary friend. It's normal for her, comforting even. Then one day, a boy moves in to town and this boy has a special voice, a familiar voice. Yes, he is the voice inside Kami's head. But how did this link become forged? Why?
The book is choc-full of sorcery, romance, hilarity, life-and-death situations - in short, it's near perfect. Brennan's dialogue is quick and easy and rings true. It's a fantastic summer read for teens who want something fun with a dash of supernatural and a pinch (ok maybe a few pinches) of romance. And make sure you're on the look out for Untold - the follow-up to Unspoken. And if you enjoyed this one, check out Brennan's other series The Demon's Lexicon. Just as fun!!
Katherine from Books Inc. Laurel Village