Submitted by
NYMBC
on Thu, 01/15/2015 - 2:32pm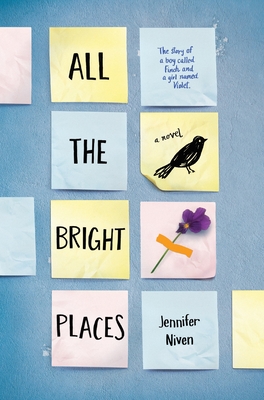 All the Bright Places by Jennifer Niven
Publication Date: January 6th, 2015
Publisher: Alfred A. Knopf Books for Young Readers
Genre: Contemporary fiction/Romance
Theodore Finch is fascinated by death, and he constantly thinks of ways he might kill himself. But each time, something good, no matter how small, stops him.
Violet Markey lives for the future, counting the days until graduation, when she can escape her Indiana town and her aching grief in the wake of her sister's recent death.
When Finch and Violet meet on the ledge of the bell tower at school, it's unclear who saves whom. And when they pair up on a project to discover the "natural wonders" of their state, both Finch and Violet make more important discoveries: It's only with Violet that Finch can be himself--a weird, funny, live-out-loud guy who's not such a freak after all. And it's only with Finch that Violet can forget to count away the days and start living them. But as Violet's world grows, Finch's begins to shrink.
For a book about suicide, All the Bright Places begins with one of the most lighthearted interactions you can imagine. As Theodore Finch stands on the top of the bell tower, contemplating whether or not today will be the day he jumps, he looks over and notices a girl standing just a few feet away, presumably contemplating the same thing. "Come here often? Because this is kind of my spot and I don't remember seeing you here before" he says to her. And with that I was hooked.
All the Bright Places is a love story, but not just any love story. It's an unconventional, whirlwind of a romance about a boy who's spent his entire life consumed with the idea of death and a girl whose life stopped the day her sister died. Ironically, Theodore – an expert on death and the many ways a person can achieve it – teaches Violet how important it is to truly live. Jennifer Niven has crafted a love story that's less about the good days and more about the bad days. She paints an exceptional picture of what it's like to love someone whose entire existence has been dulled by irrational anger, dark mood swings, and a pure disgust for oneself. She shows readers how important it is to let yourself be heard, and to stop hiding the pain that so many of us carry, covered up by a smile.
Theodore Finch and Violet Markey are two remarkable characters, haunted by their individual traumas and simply moving through life one foot at a time. I am in awe by the sheer beauty of this story and everything it stands for. The emotional rollercoaster that is All the Bright Places is not to be missed and will easily hold its place as one of the best books of 2015.
Anna from Books Inc. Palo Alto