Submitted by
NYMBC
on Wed, 01/21/2015 - 2:30pm
Joelle has performed in opera and musical theater productions across Chicagoland. She now teaches private voice lessons and is the author of the New York Times best selling THE TESTING trilogy (THE TESTING, INDEPENDENT STUDY and GRADUATION DAY) as well as two mystery series: The Rebecca Robbins mysteries (Minotaur Books) and the Glee Club mysteries (Berkley). Her YA books have appeared on the Indie Next List, on the YALSA Top 10 books for 2014 as well as the YALSA Quick Picks for reluctant readers. Paramount optioned THE TESTING as the project is currently in development.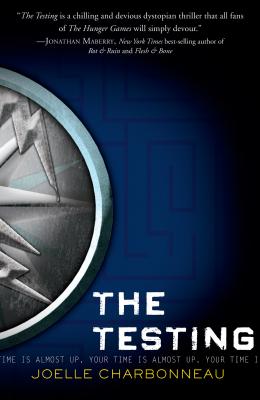 It's graduation day for sixteen-year-old Malencia Vale, and the entire Five Lakes Colony (the former Great Lakes) is celebrating. All Cia can think about—hope for—is whether she'll be chosen for The Testing, a United Commonwealth program that selects the best and brightest new graduates to become possible leaders of the slowly revitalizing post-war civilization. When Cia is chosen, her father finally tells her about his own nightmarish half-memories of The Testing. Armed with his dire warnings ("Cia, trust no one"), she bravely heads off to Tosu City, far away from friends and family, perhaps forever. Danger, romance—and sheer terror—await.
The United Commonwealth, the setting of THE TESTING, children are chosen as candidates to take tests which ultimately allow them to attend university and grant them brighter futures. What was your inspiration for this situation?
THE TESTING concept came out of my work with my voice students. For years, I've worked closely with my private voice students as they navigate the testing, application and audition process required to be accepted into college. The pressure on our high school students is greater than ever before. The need to be better and brighter than the other applicants has never been more keenly felt. Students are hyper aware that every answer they give could impact the quality of their future. Some of my students handle the pressure better than others and it is never easy to see a student falter. The teacher and parent in me can't help but be worried that the benchmark of success has risen too high and that soon it will be more than our youth can handle. The writer couldn't help but wonder how much worse the process could become and what tests a future world might want to institute in order to select the next generation of leaders. And thus The Testing was born.
How much research did you do while writing THE TESTING?
A lot! The seven stages of war that is the backstory for the fall of the world required a lot of research into WWI and WWII. I wanted to use a real model for a global conflict to create my own. I also had to do a ton of reading on the biological and chemical weapons that are in service now as well as those that are currently being developed and the effects those things might have alone and if they were somehow mixed together. Oh - and there was also the matter of figuring out how many miles a person could bicycle on any given day on rough terrain and on smooth pavement. It's amazing how much research you need to do when you create a main character that is smarter than you.
THE TESTING is set in a dystopian society; what kind of social and political themes were you trying to get across the most?
First and foremost, I was trying to tell a really fun story. But as the story developed, I enjoyed exploring themes that delved into our current education system and the stress we have put on Testing at every level to determine a student's potential. I truly believe that potential cannot be measured, but that kids start limiting their belief in themselves based on the outcome of tests early in their lives. It was also interesting to play with the political side. Our current political landscape seems to discourage any leader from admitting that something went wrong. Admitting to a mistake is basically political suicide, and yet everyone makes mistakes. Scientists will tell you that you often have to use trial and error to find the result you are looking for. We don't allow that in our leaders. We expect them to be perfect, which means they often put systems in place that they think are good ideas and when they realize they aren't they don't replace them with something else. They just keep trying to make the bad idea better. No Child Left Behind, which really pushed the current testing agenda in our schools, is a good example of that current political trend. No one actually thinks it works, but the laws that govern the testing are still on the books because no one will admit they failed and repeal them. Maybe someday the media and the rest of us will applaud someone that says they made a mistake instead of verbally flaying them. If that happens, the system might have a chance to change for the better.
Cia is a strong, independent female protagonist. Did you base her off of anyone you know?
You know, I didn't base her off of any one person, but I do think she reflects some of the best traits I see in my female high school voice students. Most of them are strong and smart and optimistic about the future. They all have a strong desire to go out in the world and make a difference. They are awesome and I couldn't be prouder of them, so I hope they see a piece of themselves in Cia.
While you're writing, are there any books you try to avoid? Do you read within the same genre you're writing, or do you try to read the complete opposite?
I read a wide range of genres, but I love mysteries and thrillers. I often will read a mystery or a thriller that is completely in a different part of the genre than I'm writing in. Also, I tend to do a lot of re-reading when I write. A great book sucks you in and makes you want to stop everything in order to finish the story. That is great for the reader in me, but really bad for my productivity as a writer. Re-reading allows me to get my story fix, but because I know where the story is going I don't have that desperate need to keep turning the pages and I can put the book down and get to work.
The film rights for THE TESTING have been acquired, who would you like to see cast?
This is such a hard question because I think it really depends on the script and the vision the director has. (This is the actress in me talking.) However, I do think that Sigourney Weaver would make an excellent President Collindar. I also would love to see Dennis Quaid as Dr. Barnes. (Maybe because I think he has the best smile ever and I'd love to get the opportunity to meet him.) Emma Watson is my dream Stacia. I automatically think smart girl when I see her. Freddie Highmore strikes me as the Tomas type. As for Cia - there have been lots of names thrown out there, but I'd love to see her as an unknown actress or someone who isn't as well known, yet. I'd love for the audience to see her and not think of all the other roles she played but think of her as Cia.
If you weren't an author, what would your ideal career be?
A superhero? Um…I love teaching voice and acting, so I feel like I should say one of those. But I think I'd love to go back to school for a law degree and then run for Congress. Which seems insane, but I'd do it if I had more time!
Are you a pantser or a plotter?
I am a pantser who is jealous of all plotters.
Coffee or tea?
Tea. (Unless the coffee has whipped cream on it.)
Favorite show? Movie? Band?
Orphan Black, The Fugitive (or Die Hard), and oh - this is hard! Can I go with favorite singer? Because I'm a total Billy Joel buff!
Joelle will be at Books Inc. Opera Plaza on January 28th at 7pm where she'll sign books and answer any of your other questions!

And don't forget to enter our celebratory giveaway for a box of ARCs HERE!