Submitted by
booksinckids
on Wed, 02/04/2015 - 2:57pm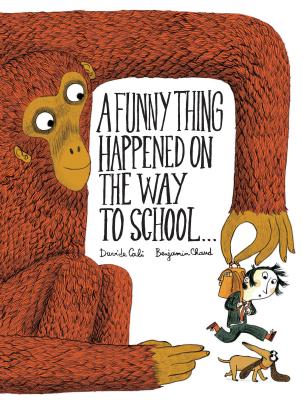 A Funny Thing Happened on the Way to School by Benjamin Chaud & Davide Cali
Expected Publication Date: February 24th, 2015
Publisher: Chronicle Books
Page Count: 44
Ages: 6-9
Genre: Humor/Picture Book
First, some giant ants steal breakfast.
Then there are the evil ninjas, a massive ape, mysterious mole people, giant blob, and countless other daunting (and astonishing) detours along the way to school. Are these excuses really why this student is late? Or is there another explanation that is even more outrageous than the rest? From Davide Cali and Benjamin Chaud, the critically acclaimed author/illustrator team behind I Didn't Do My Homework Because . . . comes a fast-paced, actionpacked, laugh-out-loud story about finding the way to school despite the odds--and the unbelievable oddness.
Why we can't wait: Everyone at Books Inc. Kids LOVED I Didn't Do My Homework Because... and we are just SO EXCITED for this next book from Benjamin Chaud and Davide Cali! We guarantee this is going to be a hilarious book filled with fabulous illustrations and a hilarious story about childish excuses! Seriously, don't miss out on this one!