Submitted by
NYMBC
on Mon, 01/26/2015 - 1:11pm
Rachel was born in Kentucky, but has lived a variety of places including Chicago, Philadelphia, St. Louis, England, and Japan. She has a BA in Comparative Literature, although she insists it should have been a BS because her undergraduate thesis was called "Paradox and Parody in Don Quixote and the satires of Lucian." She eschewed graduate school in favour of drawing comic books. She now lives in Vancouver, BC, with her family, their whippet, and a talking frog and salamander (who fight zombies)(really. There are a lot of zombies in the Pacific Northwest).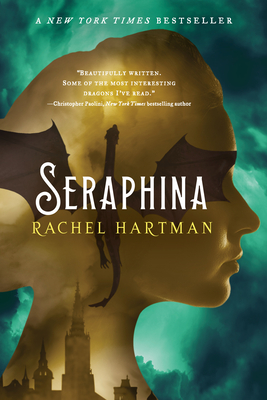 Lyrical, imaginative, and wholly original, this "New York Times" bestseller with 8 starred reviews is not to be missed. Rachel Hartman's award-winning debut will have you looking at dragons as you've never imagined them before...
In the kingdom of Goredd, dragons and humans live and work side by side - while below the surface, tensions and hostility simmer.
The newest member of the royal court, a uniquely gifted musician named Seraphina, holds a deep secret of her own. One that she guards with all of her being.
When a member of the royal family is brutally murdered, Seraphina is drawn into the investigation alongside the dangerously perceptive--and dashing--Prince Lucien. But as the two uncover a sinister plot to destroy the wavering peace of the kingdom, Seraphina's struggle to protect her secret becomes increasingly difficult... while its discovery could mean her very life.
1. The concept of tending the garden of grotesques is very fascinating; could you tell us about where this idea came from?
It came from an ancient mnemonic device called a Memory Palace: an imaginary building wherein one places things that need to be remembered. Each item on your list correlates to a specific room of the palace, such that when you walk through the rooms again, you encounter all the items on your list. I like the idea of a geography of mind, that there are places inside ourselves that we can visit, that have some kind of symbolic significance. The garden also corresponds a bit to what it's like to live inside a writer's brain, peopled by all kinds of strange characters.
2. You're a musician yourself & music plays a large part in SERAPHINA, is there a greater significance incorporating musical themes?
Music, like any art, has many uses. It can bring people together, pull them apart, illuminate and inspire and act as an extended metaphor. I use it all of these ways at one point or another in the book, but I do feel rather strongly (especially as regards themes and metaphors) that this is for the reader to discover rather than me to explain. I can tell you, however, that one thing I particularly wanted to convey is what it feels like to perform music in front of an audience. It is one of the most transcendent experiences I've ever had, and something that non-musicians (or very shy musicians) may not be familiar with.
3. Set in the high fantasy land of Goredd, Seraphina's world is incredibly well-crafted. How much research did you do while developing the setting? Is any of it inspired by other mythical places?
My first inklings of Goredd came to me when I was in seventh grade, so in some sense all the research I've ever done has gone into it, and that's a great deal. I've long been fascinated by the Middle Ages, especially music and material culture, and have accumulated quite a collection of books. Not all my research came from books, however. Goredd is based not so much on mythical places as on real ones I visited when I was sixteen and lived in England. Canterbury Cathedral, Sissinghurst Castle Gardens, the rolling countryside (and oast houses) of Kent -- these and more beloved places are all present in the book and are a big reason the setting feels so vivid.
4. You use such vivid imagery and descriptive language in SERAPHINA. Can you imagine it being turned into a film? If so, who would you like to see cast? Would you prefer live-action or an animated style?
I have a weirdly hard time imagining it as a film. I guess that if/when that ever happens, I'll be surprised by everything I see on the screen -- which I consider a good thing. I rather like being surprised. The only character I envisioned as any specific actor was the Ardmagar Comonot, leader of dragonkind. I described him once to my editor as "Shatneresque," and that was it. Forever after, he's been William Shatner in my mind.
5. SERAPHINA has been nominated for and received many awards since its publication. When you first started out, did you think it would become such a big deal?
Certainly I always hoped it would find a wide audience. I worked in bookstores for many years, however, and so I had a pretty realistic notion of what the odds were. Sometimes wonderful books fail to find their readers, and sometimes they unexpectedly catch the zeitgeist just right and take off beyond all expectations. It's actually pretty hard to predict, in my experience.
6. What's your go-to playlist while writing?
It depends what kind of scene I'm writing. I have rather specific requirements sometimes, and will put a single song on infinite repeat until I've sucked all the joy out of it. These days I'm listening to a lot of folk metal, but there's usually prog rock and medieval music somewhere in the mix.
7. If you weren't an author, what career would you want?
When I was a small child, I wanted to be a fire hydrant. I'm not sure my aspirations have matured a whole lot since then.
8. Are you a pantser or a plotter?
I'm a reformed pantser who reluctantly plots, only to punch my plot in the face at every possible opportunity. I hate the constraint of an outline, but if I don't outline at all, I have trouble reining everything in.
9. Coffee or tea?
Tea, forever and ever, amen.
10. What's your favorite TV show? Movie? Band?
I am enjoying the living daylights out of Agent Carter on TV. My favourite movie is probably not "Aguirre:The Wrath of God," but I like to pretend it is because I have a terrible time choosing a true favourite. My favourite band at the moment is The Gloaming, which features some transcendent Irish fiddling as well as my favourite vocalist, Iarla Ó Lionáird.
Rachel will be at Books Inc. Palo Alto on Monday, February 2nd at 7PM to answer any more of your questions!

And don't forget to enter our celebratory giveaway for a box of ARCs HERE!